We are a department e-commerce store that is sure to have what you need or looking for and if not maybe something that peeks your interest. Take a look at our menu or enter an item is the search bar. We're connected to a couple different affiliate companies and we earn a commission if you make a purchase. Our Store Has a Branded line created with 'YOU' in mind. A Brand that's for anyone who have or is in the process of defining who they are mentally and or physically becoming the best version of their Ideal selves. We provide hand picked Vitamins and Supplements from the Worlds Top Brands. Plus, workout and exercise essentials for the active man or woman. Complete with an electronics department for all your gaming, exercise, leisure and home improvement needs. Thank you for your Support!
CREATE YOUR LIFE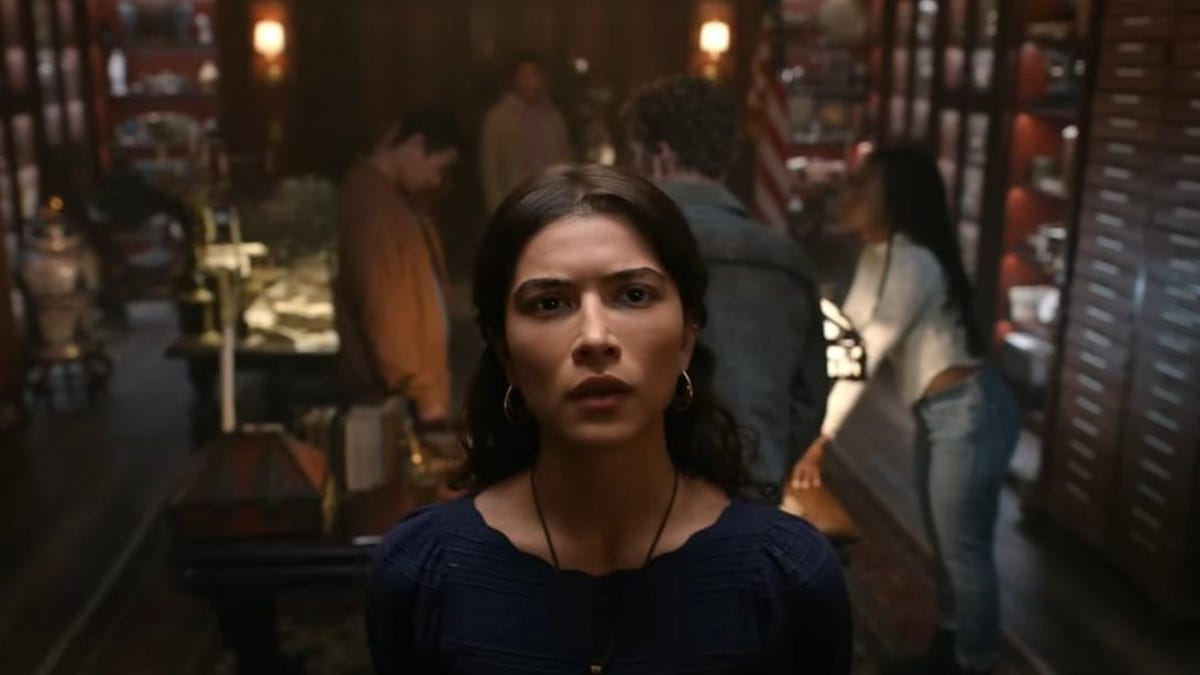 The first National Treasure film was released in 2004, an archeological dive into the United States' founding myths that played sort of like a louder, dumber Indiana Jones crossed with The Da Vinci Code. Of course it was a hit, prompting the creation of a sequel and no doubt funding the purchase of several additional castles for its star, Nicholas Cage.
Yet despite the enthusiasm for the franchise, which made National Treasure 2: Book of Secrets an even bigger global hit, and years of news and rumors, a third National Treasure was never made, even as its star completed his transformation into some sort of living meme. Instead, we're getting National Treasure: Edge of History (Dec. 14), a Disney+ streaming series in which Cage's Ben Gates isn't even featured; instead the series focuses on a young Mexican-American Dreamer, Jess Valenzuela (Lisette Olivera) as she searches for her missing father, uncovers the secrets of her family legacy, and hunts for Pan-American historical treasures. It's not like there's no budget for this thing—the trailer looks slick and Catherine Zeta-Jones has a supporting role—so maybe Jess and Ben can team up in a future season.
National Treasure: Edge Of History | Official Trailer | Disney+
Here's everything else coming to Disney+ in December, including another film-to-streaming transplant minus its marquee name as the Night at the Museum franchise goes animated and loses Ben Still with the premiere of Night at the Museum: Kahmunrah Rises Again (Dec. 9), another installment of the Diary of a Wimpy Kid animated reboot (Dec. 2), and a live performance of the songs of Encanto recorded earlier this year at the Hollywood Bowl (Dec. 28).
Disney Plus series with new episodes premiering weekly in December 2022
The Mysterious Benedict Society, Season 2 (finale Dec. 7)
National Treasure: Edge of History (premieres Dec. 14)
The Santa Clauses
Sumo Do, Sumo Don't
Willow
Movies and complete series/seasons coming to Disney Plus in December 2022
Arriving Dec. 2
Akashinga: The Brave Ones
Diary of a Wimpy Kid: Roderick Rules — Disney+ Originals film premiere
Heroes of the Mediterranean
Patagonia Wings
Pentatonix: Around the World for the Holidays — Disney+ Originals premiere
The Territory
Arriving Dec. 7
Alice's Wonderland Bakery (S1, 5 episodes)
Animal Fight Night (S1, S2, S3, S4, S5, S6)
Beyond Magic with DMC (S1)
Botswana (S1)
Gigantosaurus (S3, 8 episodes)
Raven's Home (S5, 2 episodes)
The Villains of Valley View (S1, 1 episode)
Arriving Dec. 8
Solo Amor Y Mil Canciones — Disney+ Originals premiere
Arriving Dec. 9
Area 51: The CIA's Secret
CMA Country Christmas
Idina Menzel: Which Way to the Stage? — Disney+ Originals premiere
Night at the Museum: Kahmunrah Rises Again — Disney+ Originals premiere
Ocean's Breath
Shark vs. Tuna
Retrograde
Arriving Dec. 14
Alaska's Deadliest (S1)
Broken Karaoke (Shorts) (S1, 1 episode)
Drain the Oceans (S5)
The Great Christmas Light Fight (S10)
The Owl House (S3, 1 episode)
Positive Energy (S1)
Arriving Dec. 15
A Very Backstreet Holiday
Arriving Dec. 16
Beauty and the Beast: A 30th Celebration
Heroes of the Long Road Home with Martha Raddatz
If These Walls Could Sing — Disney+ Originals premiere
Le Pupille — Disney+ Originals premiere
Mafia Confidential
Muppets Most Wanted (Sing-Along Version)
Where Oceans Collide
Arriving Dec. 21
Ancient X Files (S2, 5 episodes)
Born in Africa (S1)
Danger Decoded (S1)
The Flagmakers
Port Protection Alaska (S1, S2, S3, S4, S5)
Arriving Dec. 23
From the Ashes
Jaguar Beach Battle
Little Giant
Arriving Dec. 28
Encanto at the Hollywood Bowl — Disney+ Originals premiere
Generation X (S1)
Savage Kingdom (S1, S2, S3, S4)
Street Genius (S1, S2)
Wicked Tuna: Outer Banks Showdown (S1)
Arriving Dec. 30
Black Pharaohs: Sunken Treasures
Generation Youtube
We have collected RSS feeds from some of our favorite websites and given our customers full access! We know that you want to sit back and enjoy the post, article and gossip and you have the choice to either click here Source or continue with the article. Afterwards, feel free to search our site for related information or both!