Defined Creations is the Brand, the store, and the business that is sure to have what you need or looking for or maybe that little something that peeks your interest. Take a look at our menu or enter an item is the search bar. We're connected to a couple different affiliate companies and we earn a commission if you make a purchase. Our line was created with 'YOU' in mind. A Brand that's for anyone who have or is in the process of defining who they are mentally and or physically becoming the best version of their Ideal selves. We provide hand picked Vitamins and Supplements from the Worlds Top Brands. Plus, workout and exercise essentials for the active man or woman. Complete with an electronics department for all your gaming, exercise, leisure and home improvement needs. Follow us and you just might hear something, read something, learn something or see something that changes your life…. for the good. Thank you for your Support!
CREATE YOUR LIFE
To thwart hoarders, the brand won't even tell you where to buy the precious $1,300 bottle.
Courtesy Blade and Bow
In September, Blade & Bow, the cult bourbon brand produced at the original site of the historic Stitzel-Weller Distillery in Louisville, Kentucky, released some of its ultra-precious 22-Year-Old whiskey—without telling anyone where they could buy the $1,300-per-bottle tipple. That's to thwart hoarders, scalpers and other shady characters who know they can resell the rare elixir for much more on the secondary market, thereby depriving honest bourbon enthusiasts of enjoying the stuff on their own terms.
With ties to often-even-pricier Pappy Van Winkle, which was also produced at Stitzel-Weller for a time, the Blade & Bow 22-Year-Old is however more approachable and doesn't require taking out a second mortgage or sacrificing your firstborn. And when you finally get some in your glass you'll know what bourbon heaven is really like.
Courtesy Blade and Bow
There's a method to tasting bourbon called the Kentucky chew, which involves letting the amber liquid luxuriate by rolling it around the mouth. What is striking about Blade and Bow's 22-Year-Old is that it self-luxuriates; the smallest of sips initiates a self-propelled trek through the palate. Unleashed in the mouth, it can be compared to thoroughbred horses breaking from the gate at nearby Keeneland racecourse; smoky and sweet with notes of torched sugar, apples baked in honey and spices, the experience turns the palate into a 10-furlong derby. 
Courtesy Blade and Bow
"There's a hot secondary market for limited-release bourbons" like the Blade and Bow 22, says Eli Jackson, who tends bar at the Louisville Thoroughbred Society. "People spend hours in line when word of a release gets out. They'll even hire people to get in line to obtain more bottles." The Louisville Thoroughbred Society makes Jackson something of an expert on the subject thanks to its outstanding collection of sought-after bourbons.
ProofMediaMix.com / Courtesy Blade and Bow
Though a private club, it offers a variety of membership options to the public including one for people who live outside the Louisville area to enjoy access on a visit. It offers fine dining, a walk-in humidor stocked with premium cigars, simulcast horse races and pari-mutual waging on premises. Blade and Bow also has its own equally cool whiskey club, created in conjunction with Garden & Gun magazine, at the Stitzel-Weller distillery.
Courtesy Blade and Bow
The Blade and Bow brand was born in 2015 after multinational beverage company Diageo reopened Stitzel-Weller, which had been shuttered since 1992. The distillery, which originally opened on Derby day in 1935, was one of the first newly-built facilities following the end of prohibition. It became popularly known as the Old Fitzgerald Distillery, after the main brand of bourbon it produced. Visitors to the distillery today can see "Old Fitzgerald" memorialized in the giant boiler chimney. 
Courtesy Blade and Bow
Diageo invested millions in the preservation of what is considered one of the cathedrals of bourbon history. The giant copper stills and ancient machines stand silently in testament to the past production of whiskey. Some distilling does take place on the premises but this is done for experimentation to further enhance the product. It was in this spirit of historic preservation that the Blade and Bow brand was born.
Courtesy Blade and Bow
To produce Blade and Bow, old stocks of whiskey preserved in the Stitzel-Weller warehouses are blended with newly produced whiskeys using the solera aging process; by only partially draining barrels containing the blend before refilling with new whiskies, the old stock whisky lives on in every bottle. To produce the precious 22-Year-Old, the brand blends two carefully curated ultra-fine aged bourbons sourced by the maker.
Courtesy Blade and Bow
There is nothing ahistorical about a brand sourcing its whiskey rather than producing it, which is the reason so many iconic brands, including Pappy, have been associated with Stitzel-Weller over the years. Blade and Bow has elevated this practice in a unique way by creating a whisky that is the result of a deep engagement with history. The five keys that adorn the Blade and Bow label once hung on the door to the Stitzel-Weller distillery, symbolizing the major steps involved in making whiskey: grains, yeast, fermentation, distillation and maturation in charred American oak barrels.
Courtesy Blade and Bow
The engagement with the history of the Stitzel-Weller has also resulted in the creation of the Garden and Gun Club, where walls are adorned with photographs from the distillery's heyday. Upstairs visitors will find a lounge and bar ably tended by Greg Hojanacki, whose approach to cocktails is no less rigorous than the preservation of the surroundings. While I sipped his outstanding Manhattan cocktail, Hojanacki explained, "Balance and quality of ingredients are essential to outstanding drinks. Blade and Bow bourbon provides an excellent base because it has a wealth of character, from its subtle notes of oak and fruit, to its warming spice on the finish."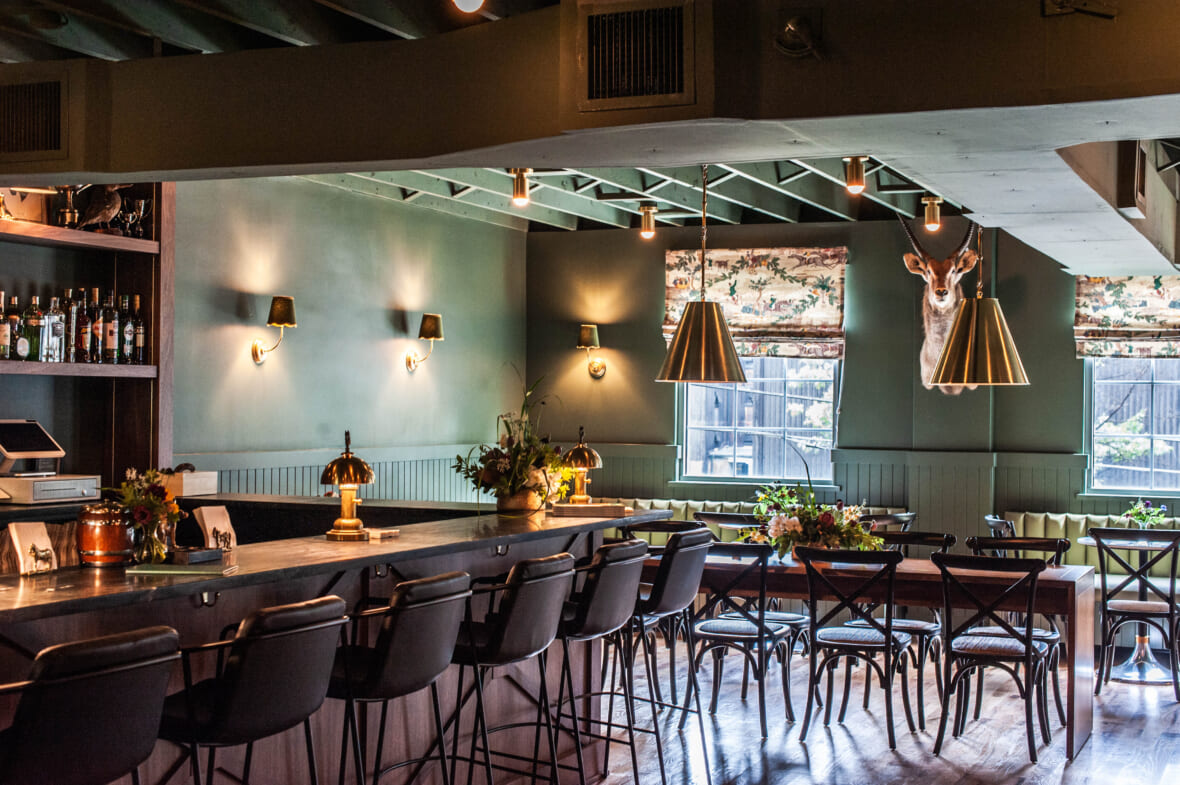 Courtesy Blade and Bow
The Garden and Gun Club is open to the public most afternoons and does not require membership or reservations. It features a bar menu as well as offering a modern take on classic Southern dishes. The club, along with the hauntingly atmospheric distillery, makes Stitzel-Weller a must visit on the Kentucky Bourbon Trail.
Until you can get there yourself, here's how to make your own Blade & Bow Smoked Maple Manhattan, courtesy of Mr. Hojanacki:
2 oz. Blade & Bow Bourbon
1 oz. Cocchi di Torino Vermouth
1 Bar Spoon of Organic Maple Syrup
2 Dashes of Aromatic Bitters
In a mixing vessel, combine all ingredients and add ice
Stir to proper dilution
Transfer cocktail to a closable vessel and add smoke from cherry wood chips
Close vessel and allow smoke to infuse
Serve in a chilled coupe or on the rocks
Garnish with an Amarena cherry
Tags: American whiskey Blade & Bow bourbon Eric Kater Kentucky Pappy Van Winkle Stitzel-Weller whiskey

We have collected RSS feeds from some of our favorite websites and given our customers full access! We know that you want to sit back and enjoy the post, article and gossip and you have the choice to either click here Source or continue with the article. Afterwards, feel free to search our site for related information or both!