Defined Creations is the Brand, the store, and the business that is sure to have what you need or looking for or maybe that little something that peeks your interest. Take a look at our menu or enter an item is the search bar. We're connected to a couple different affiliate companies and we earn a commission if you make a purchase. Our line was created with 'YOU' in mind. A Brand that's for anyone who have or is in the process of defining who they are mentally and or physically becoming the best version of their Ideal selves. We provide hand picked Vitamins and Supplements from the Worlds Top Brands. Plus, workout and exercise essentials for the active man or woman. Complete with an electronics department for all your gaming, exercise, leisure and home improvement needs. Follow us and you just might hear something, read something, learn something or see something that changes your life…. for the good. Thank you for your Support!
CREATE YOUR LIFE
With a mind-blowing blend of beauty and philanthropy, Gracie Hunt is a woman with the means to make a difference.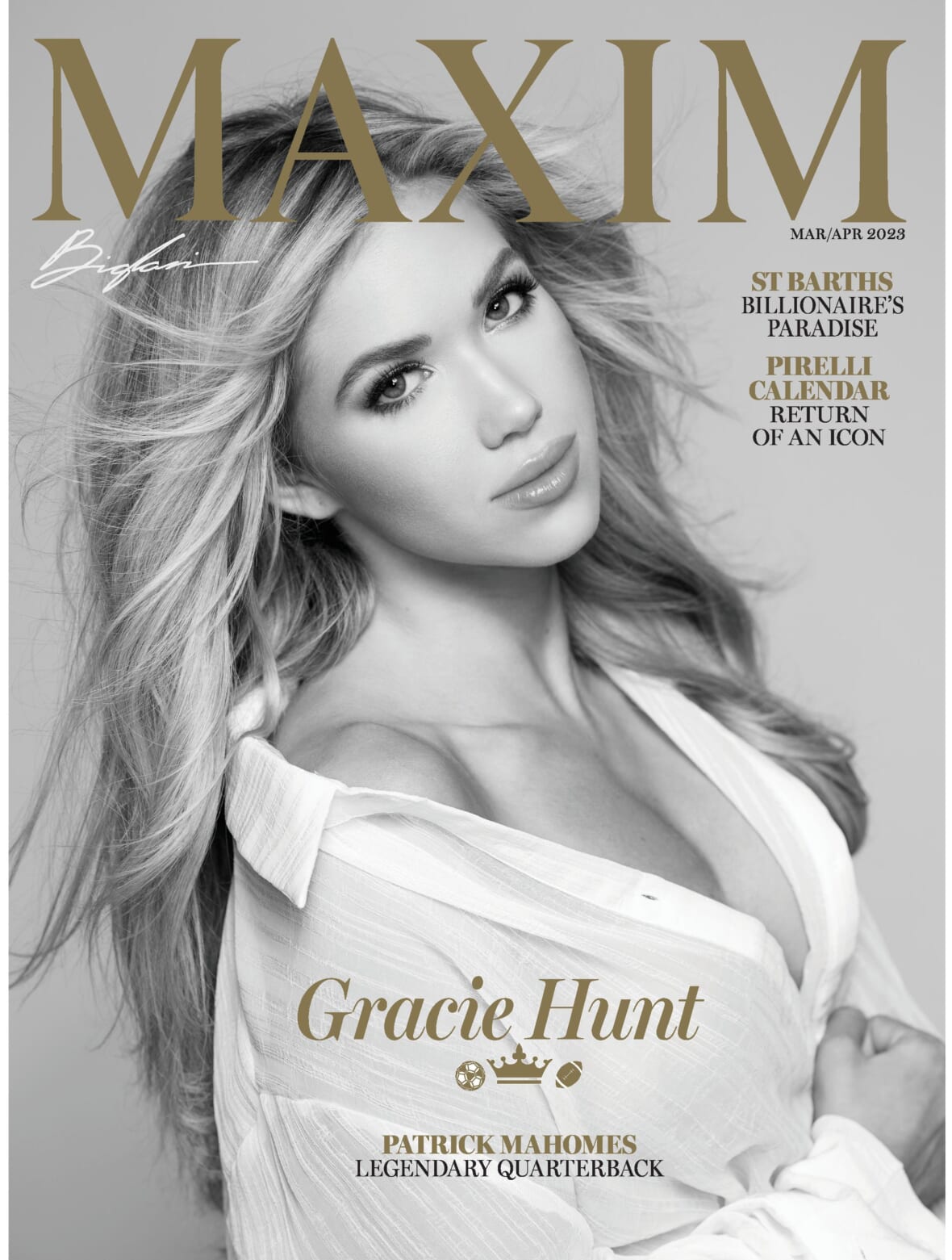 (Photography: Gilles Bensimon, Styling: Caroline Christiansson, Makeup: Leslie Lopez using Chanel/TracyMattingly.com, Hair: Julien Farel for Farel Haircare New York, Production: Jessica Athanasiou)
Heiress to both oil and football dynasties and a beauty pageant winner to boot, Gracie Hunt's the girl who has it all. So what does she do? She gives it back. And she has even greater aspirations of her own.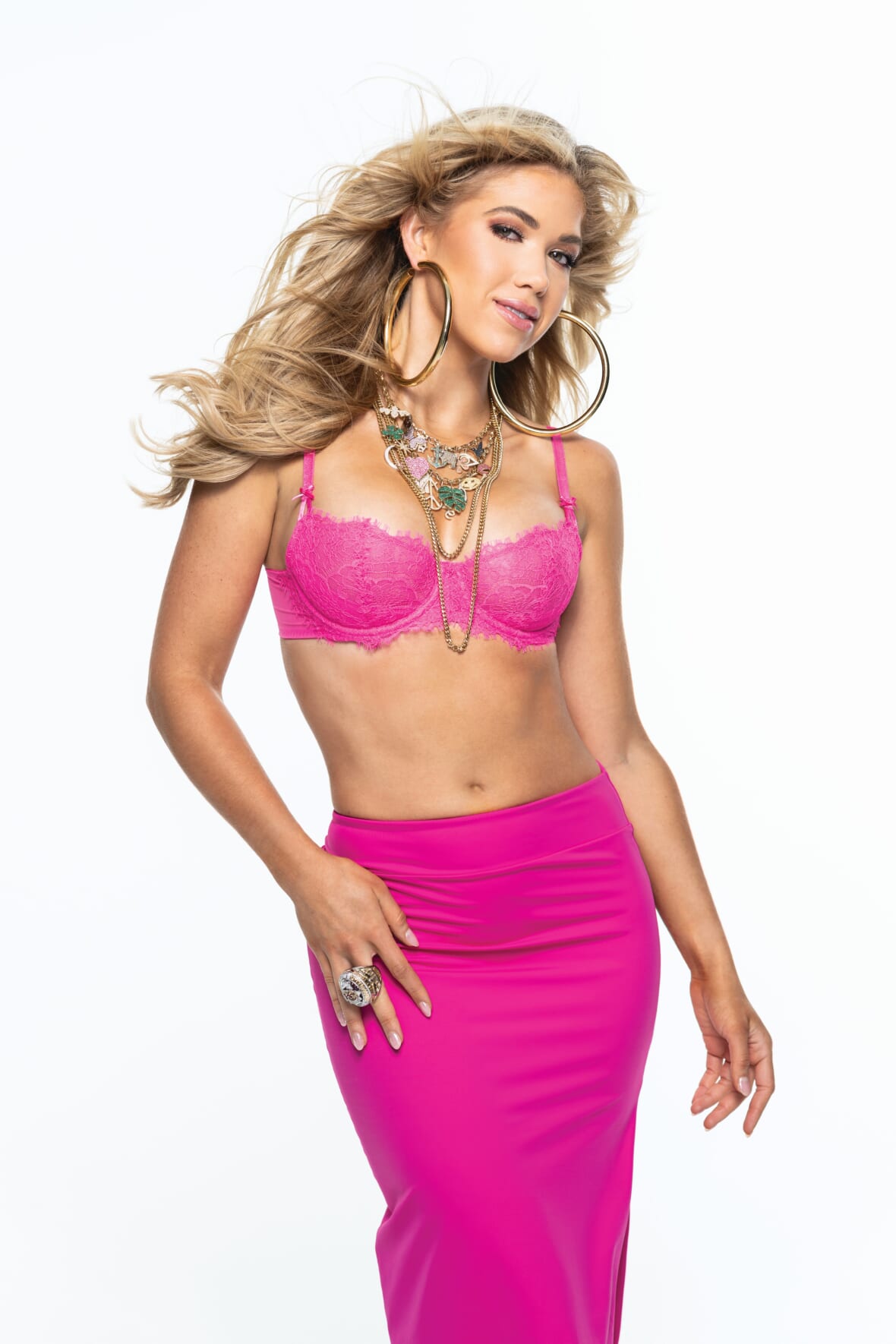 Bra: VICTORIA'S SECRET, Earrings: JENNIFER FISHER, Necklaces: SYDNEY EVAN, Ring: KANSAS CITY CHIEFS/Model's Own, Skirt: DOS GARDENIAS
(Gilles Bensimon)
When she's not running marathons, Gracie, whose great-grandfather was famed oil tycoon H.L. Hunt, serves as a Special Olympics Ambassador and has served on the board of Special Olympics Texas and presently with Special Olympics Kansas.
Earrings: JENNIFER FISHER, Top: Kansas City Chiefs/Model's Own, Hotpants: PLT
(Gilles Bensimon)
She also works with New Friends New Life, which provides services and assistance for those victimized by human trafficking. Plus her seat on the board of Echelon, a body of young professionals in service to the Salvation Army, helping to alleviate poverty and hopelessness wherever it's found. Not to mention, all the other volunteering she does including founding her own nonprofit, Breaking Barriers Through Sports.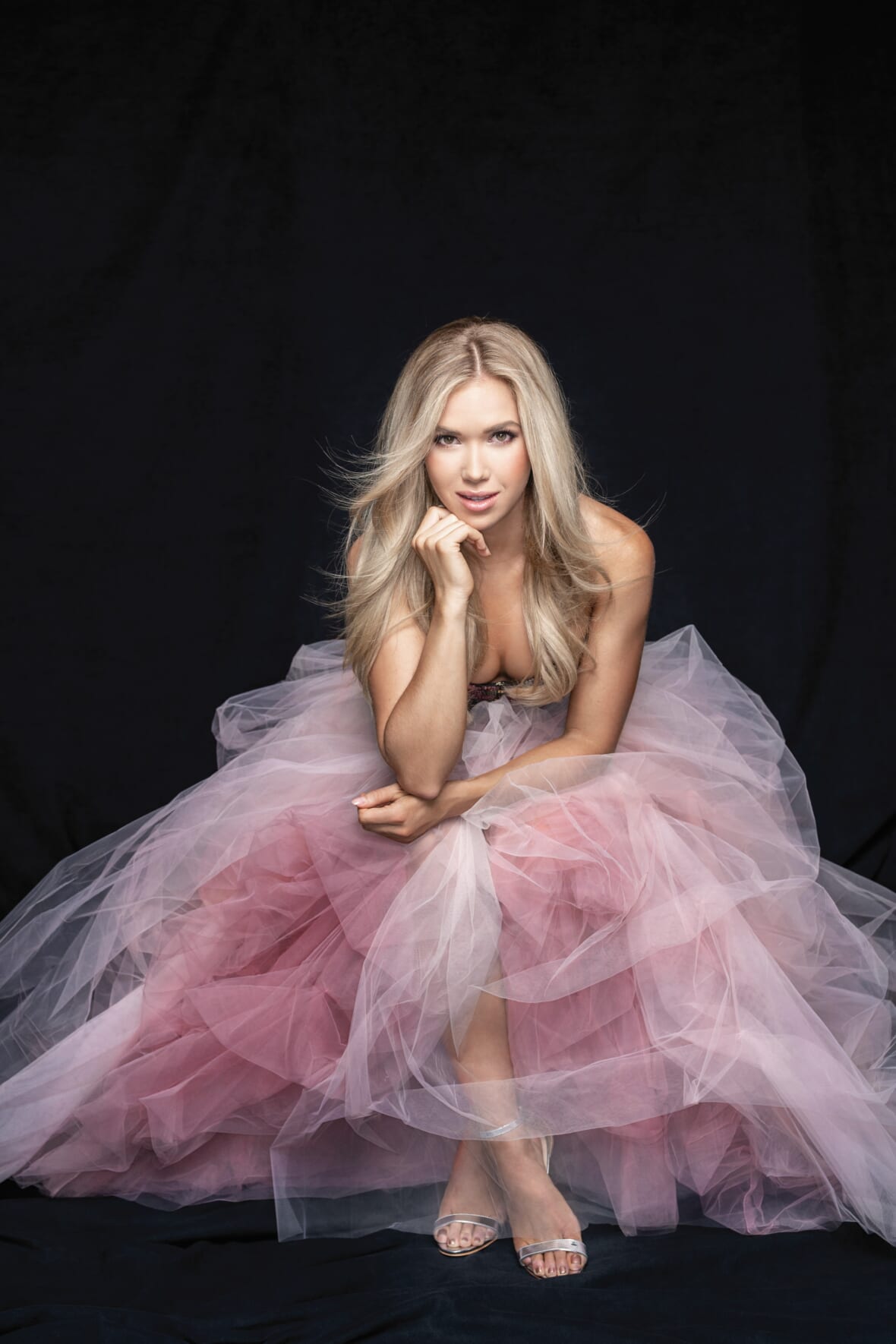 Vintage Earrings: Model's Own, Bustier: AGENT PROVOCATEUR, Vintage Skirt: Stylist's Own, Shoes: PLT
(Gilles Bensimon)
"One of the things that I love doing most is giving back. It's what makes me the happiest. Whether it's painting a house for Habitat for Humanity or on the field for Special Olympics, it's important to constantly focus on other people," she tells us.
"Even though there's a lot of heartache in the world, there's also a lot of goodness and increasingly that is what brings me joy."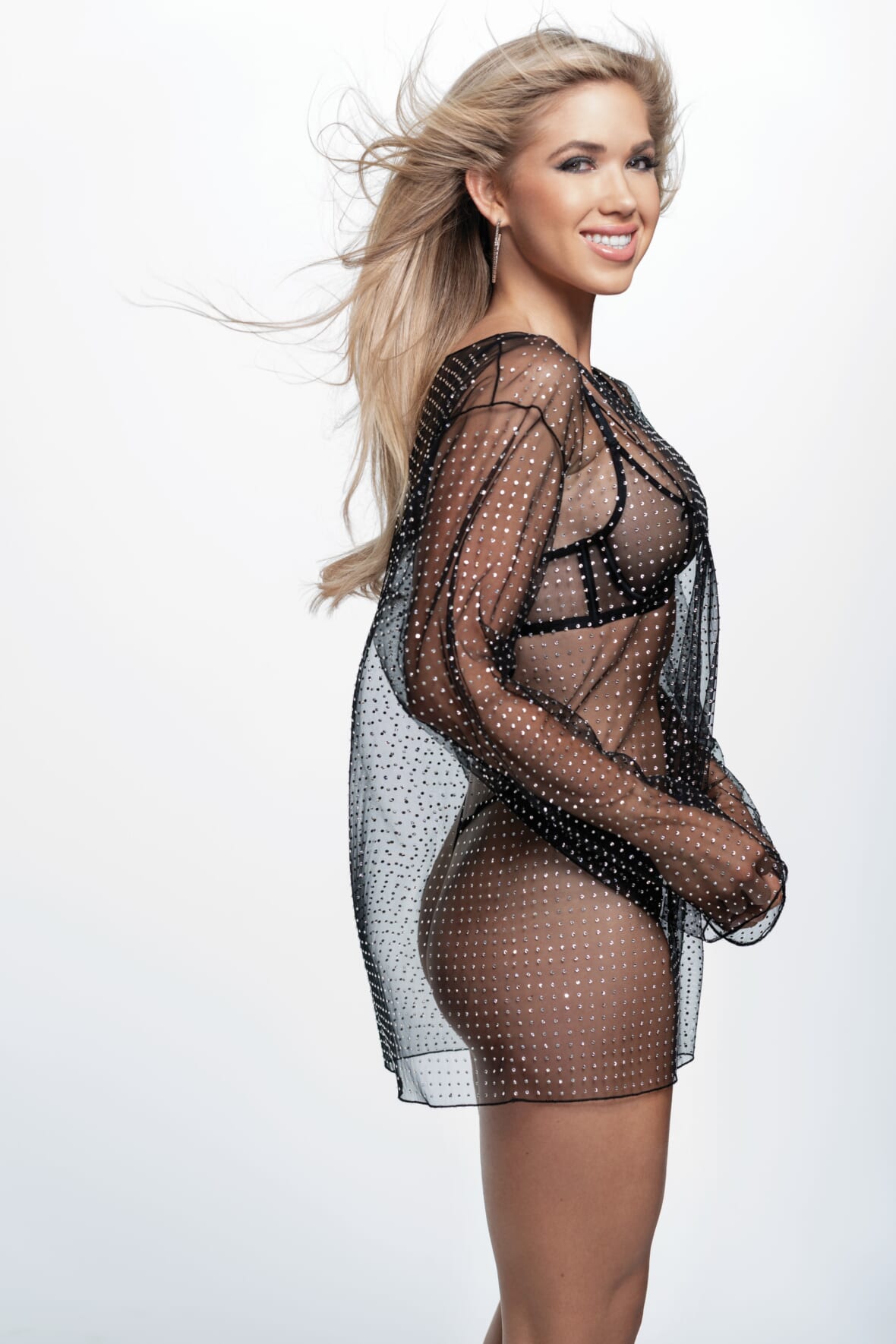 Earrings: SYDNEY EVAN, Vintage Top: ASHISH, Lingerie Set: AGENT PROVOCATEUR
(Gilles Bensimon)
In 2010 Gracie partnered with Athletes in Action on a soccer clinic for impoverished kids in South Africa during the World Cup. Four years later she landed in Brazil for the next World Cup and donated soccer gear to children from the favelas.
Here at home, her nonprofit work has contributed funds toward building multipurpose sports fields in disadvantaged areas. Gracie herself would be playing soccer today if she hadn't suffered four concussions.
Earrings: SYDNEY EVAN, Dress: PATBO/Model's Own, Shoes: PLT
(Gilles Bensimon
"Soccer helped build my relationship with my dad. He was my first coach when I was little and those are sweet memories I'll always cherish," she recalls. She had plans to play in college, but the concussions ended that dream.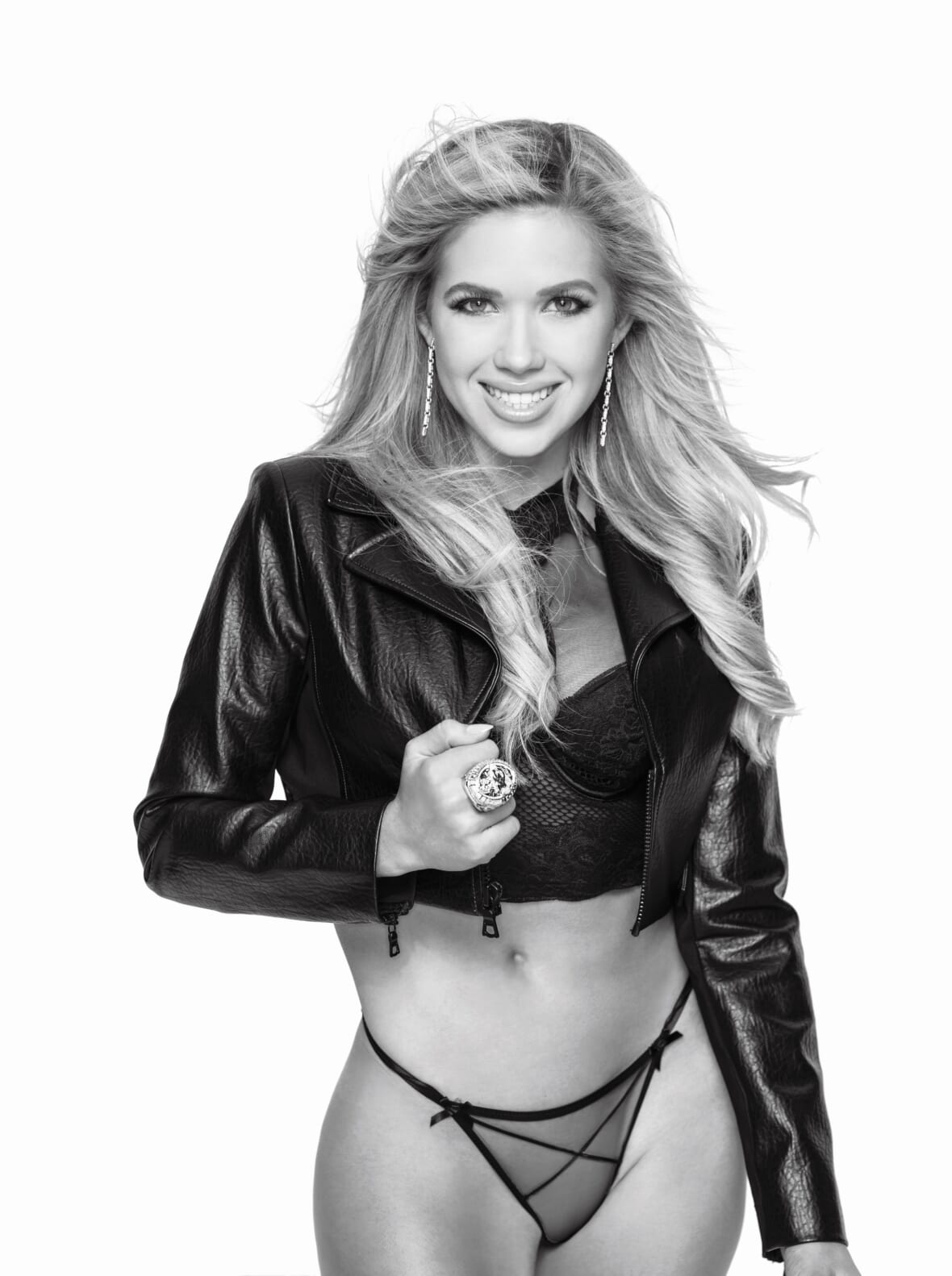 Earrings: JENNIFER FISHER, Necklaces: SYDNEY EVAN, Jacket: ALICE AND OLIVIA/Model's Own, Bustier: VICTORIA'S SECRET/Model's Own, Panty: AGENT PROVOCATEUR
(Gilles Bensimon)
Competitive sports transitioned to competitive pageantry as Gracie turned to her mother, Tavia, aka Miss Kansas 1993, for guidance in the pageant world.
"My mom ended up taking on a lot of the coaching for the pageant, so I had this wonderful dynamic where my dad was my soccer coach when I was young, and then when I began my pageant journey, my mom was an excellent resource as she was second runner up to Miss USA in 1993."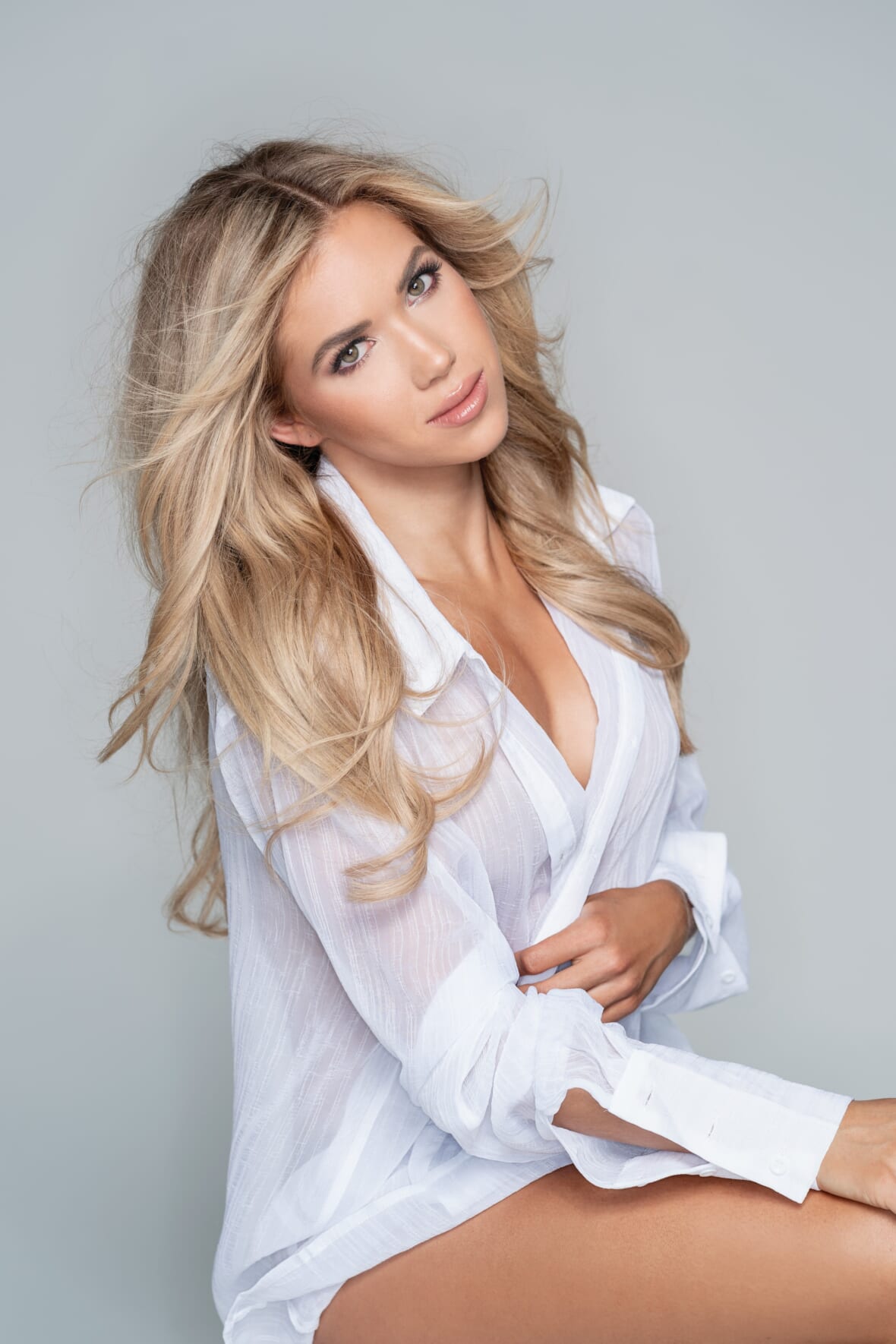 Shirt: PLT
(Gilles Bensimon)
Like her mother, Gracie was named Miss Kansas USA. And also like her mother, in the Miss USA competition she went home having placed at Miss USA.
"My mom and dad were engaged when she went to Miss USA. They got married shortly after she gave up her Miss Kansas USA title and they agreed that none of their kids would do pageants. My dad especially wanted us to participate in sports with scoreboards and finish lines and competitions that limit subjectivity."
Over her five years competing in pageantry, she made lifelong friends and developed a strong sense of self and confidence along the way. Gracie won Miss Texas Teen International 2016, Miss Texas International 2018, and Miss Kansas USA 2021.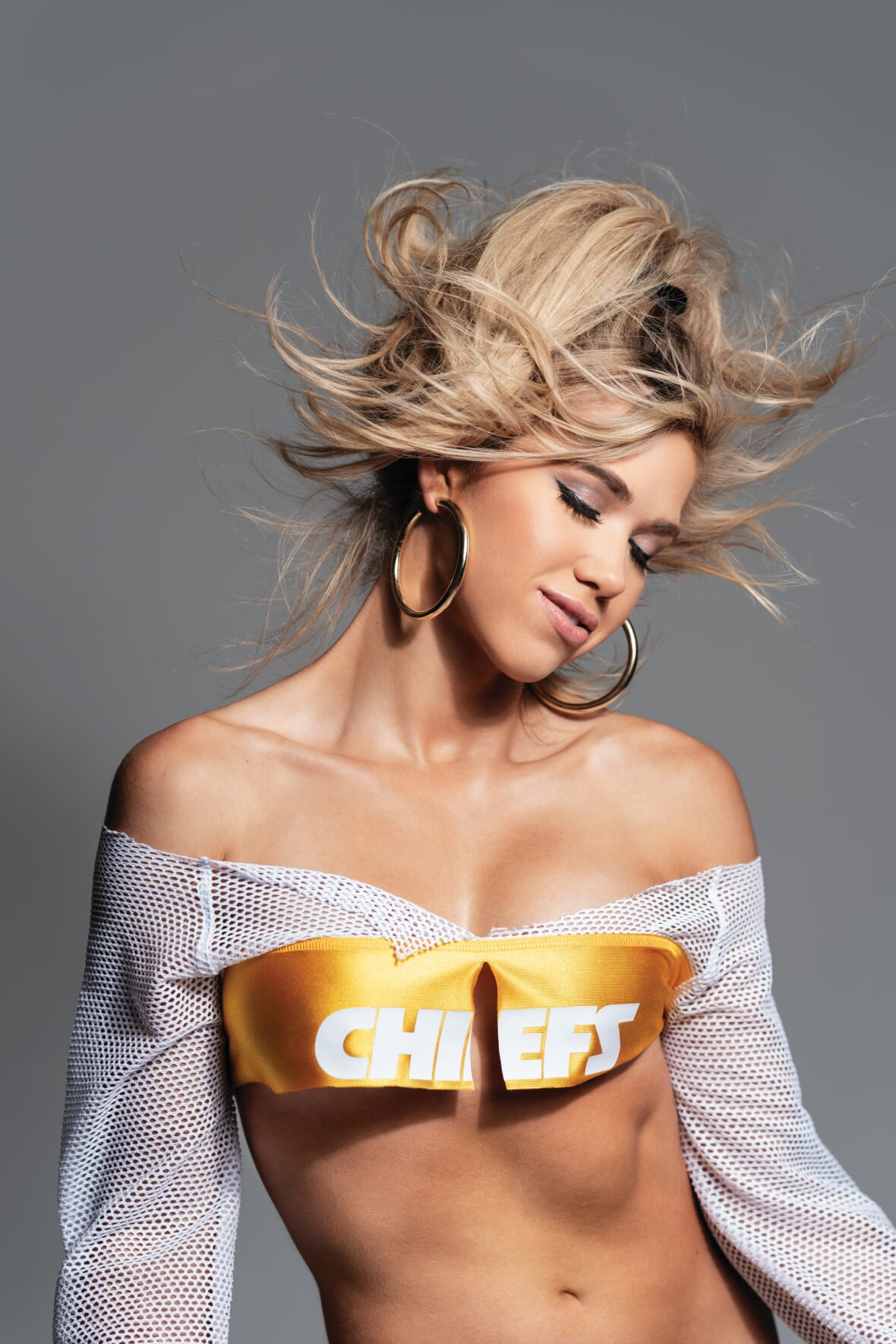 Earrings: JENNIFER FISHER, Top: Kansas City Chiefs/Model's Own
(Gilles Bensimon)
"I went from walking like a tomboy in my soccer cleats to gliding in six-inch pageant stilettos," she laughs at the memory. "Like when all chapters in life come to an end, it was bittersweet. I feel so blessed to have had the opportunity to live out that dream to its fullest. This next chapter I'm stepping into is exciting, fun, and it's allowed me the opportunity to discover new passions."
Instead of licking her pageant wounds, Gracie traded her pageant heels for a pair of running shoes and, 13 hours before the start of the race, signed up for the Aspen Valley Marathon. It's a gutsy move considering she had no real training. She spent some time in Aspen, hiking at 9,000 ft., but had never consistently run the mileage needed to become a marathoner. Even so, she finished in three hours and 45 minutes, just 15 minutes short of Boston Marathon qualifying.
Earrings: JENNIFER FISHER, Necklaces: SYDNEY EVAN, Rings: SYDNEY EVAN and JENNIFER FISHER, Jacket: LE SUPERBE, Panty: DOS GARDENIAS (Gilles Bensimon)
Since then, Gracie has also run the Boulder Marathon and several half marathons. She'll be running in the 2023 Boston Marathon to raise money for Camp Shriver, founded by Eunice Kennedy Shriver, which provides a Unified Sports experience for young people with and without disabilities.
In the Hunt household, things are extremely competitive. "Excellence in all you do is the attitude I grew up around. Bringing forth your best in whatever it is you do is something I've watched both my parents model," she explains.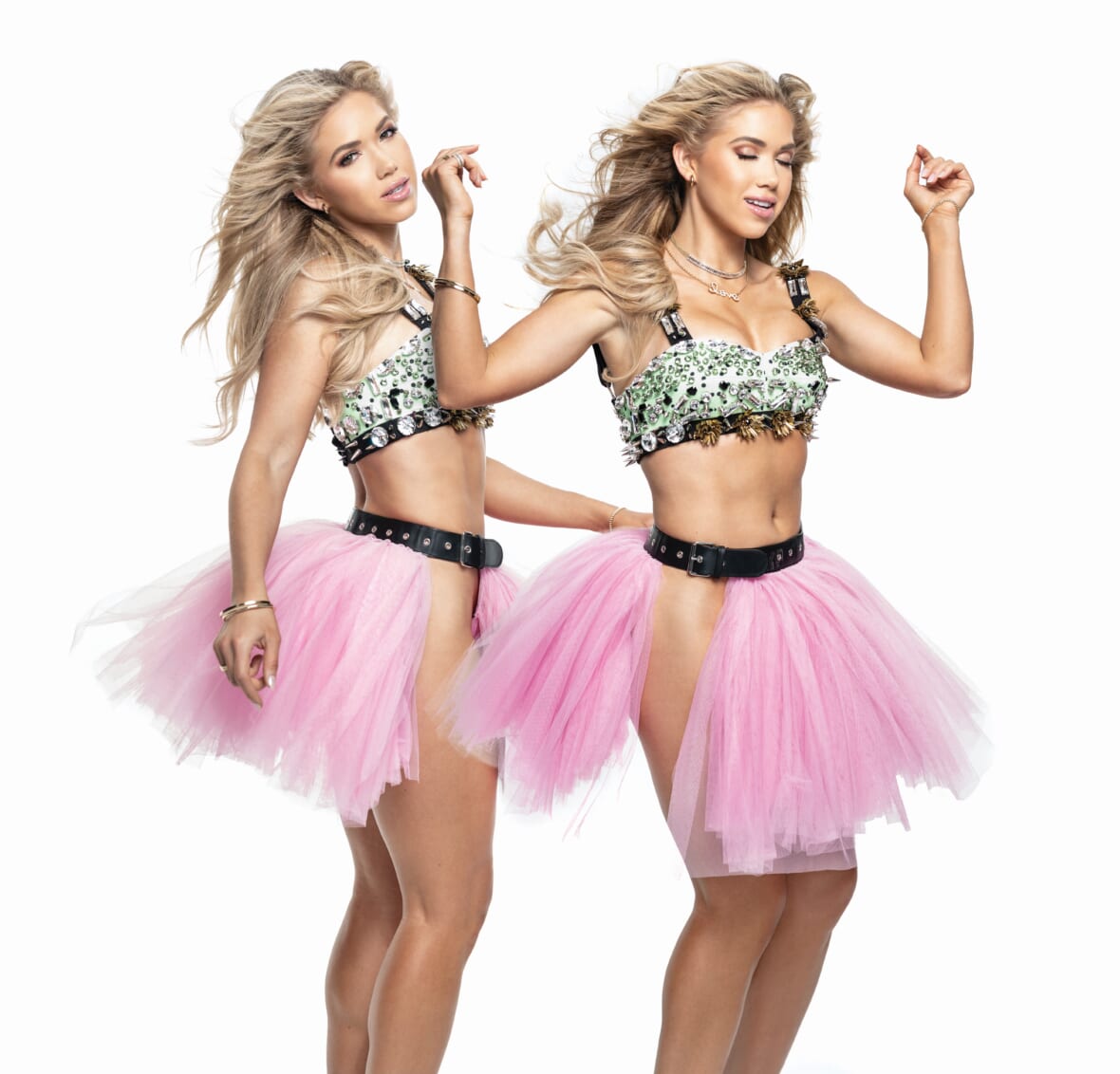 Earrings: JENNIFER FISHER, Bracelets: SYDNEY EVAN, Necklaces: SYDNEY EVAN, Bustier: EMANUEL UNGARO, Skirt: MOSCHINO
(Gilles Bensimon)
"When it comes to my newfound running passion, I love how supportive my friends and family have been. My mom always believes in me and has given me the support and encouragement to take leaps of faith throughout my life. My dad has a little stopwatch and enjoys tracking me and analyzing my splits during my races. Sometimes when I'm training, he cycles next to me and it's great."
Her father is a founding investor and owner in Major League Soccer and the NFL. Hunt Sports Group oversees not only the Kansas City Chiefs, but FC Dallas and, formerly, the Columbus Crew, and the Kansas City Wizards of MLS. His father, Lamar Hunt, founded the Chiefs in 1960, calling them the Dallas Texans, a charter member of the American Football League. The team moved to Kansas City in 1963.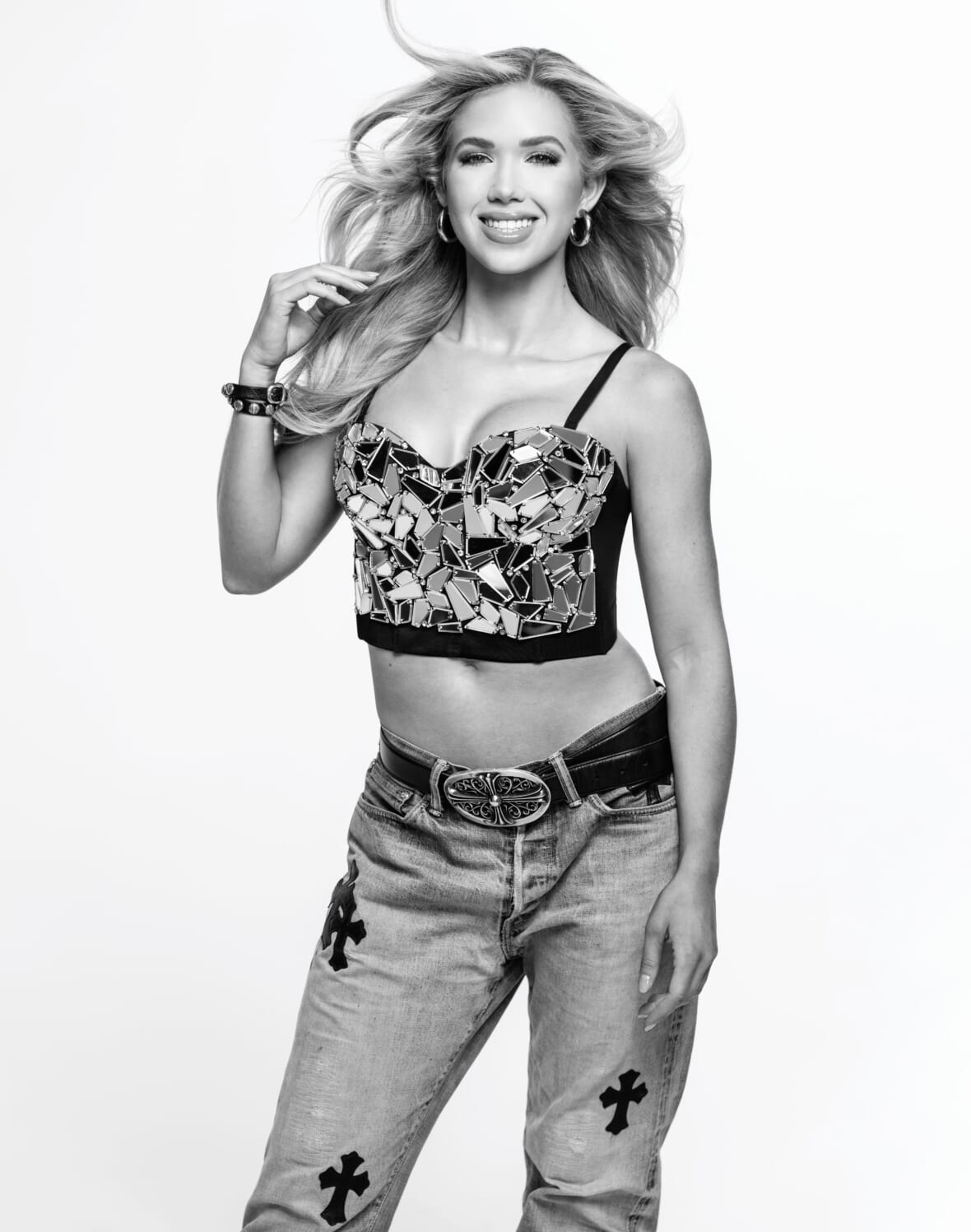 Earrings: JENNIFER FISHER, Bracelet: CHROME HEARTS, Bustier: DOLCE GABBANA/Model's Own, Vintage Denim: CHROME HEARTS, Vintage Belt: CHROME HEARTS, Panty: AGENT PROVOCATEUR (Gilles Bensimon)
The Chiefs will battle the Philadelphia Eagles in their third-ever Super Bowl appearance on February 12. The franchise is vying for its second NFL title following its inaugural, Super Bowl LIV championship win against the 49ers in 2020.
"From the time I was a baby toddling around, I was dressed in red and gold and grew up on those sidelines." Gracie laughs about growing up with Chiefs DNA.
"I'm very fortunate to have excellent role models in my life. Observing my parents' tireless work ethics has made me want to make the most of each opportunity before me." She graduated early and with honors from Southern Methodist University with degrees in journalism and in applied physiology and sport management.
Currently pursuing her master's degree in sports management at the University of Kansas, she also works with the team on brand development and marketing, and yes, she will be attending the NFL draft this spring in Kansas City.
"You hear about the war room and there really is a war room," she nods. "Our team's scouts and coaches work hard to run all the different scenarios so that it takes as much pressure as possible off that moment when you're on the clock. It's almost like a game of chess. Identifying talent that other teams might grade differently is essential to a successful draft. Sometimes things don't go the way you anticipate and it's about navigating curve balls. Other times, it's about knowing who you want and making the move to trade up and draft a guy you're really excited about."
In other words, Gracie's a part of the family business and means to smash any glass ceiling that gets in her way. You hear that, Roger Goodell? She's coming for you. "There's got to be a first female NFL commissioner at some point," she shrugs. Being surrounded by some of the finest athletes in the country is inspiring and motivating.
As far as Gracie's love life goes, she is a free agent herself. "I'm definitely looking for that number one draft pick" she says with a smile. But before you jump in line be sure you measure up. "My top three things: does he align with me on a faith basis? Is he athletic? What does his work ethic look like? And if you're funny with a great personality that's hard to beat."
Her focus on fitness and health originally came from a Celiac disease diagnosis at a young age. "I've known what it feels like to be sick and not know why." This led her to pursue her nutrition accreditation and personal training certification, doling out advice on the subject wherever needed. "Health and nutrition are something I care a lot about, and I love creating delicious and healthy dishes in the kitchen."
"I like to stay grounded by focusing less on myself and more on other people. In the 'selfie-focused' culture we live in, staying focused on what really matters can sometimes be difficult," she adds with a shake of her head.
"I've found happiness to be a product of circumstance and joy to be a daily decision. Walking through life joyfully each day is a decision you get to make every single morning when you wake up. I'm someone who is fueled by choosing joy and fostering gratitude." We won't be at all surprised if Gracie follows in her grandfather's footsteps and builds an empire of her own.
Tags: Entertainment football Gilles Bensimon Gracie Hunt Kansas City Chiefs Maxim Cover Model models news nfl sports Super Bowl

We have collected RSS feeds from some of our favorite websites and given our customers full access! We know that you want to sit back and enjoy the post, article and gossip and you have the choice to either click here Source or continue with the article. Afterwards, feel free to search our site for related information or both!