Defined Creations is the Brand, the store, and the business that is sure to have what you need or looking for or maybe that little something that peeks your interest. Take a look at our menu or enter an item is the search bar. We're connected to a couple different affiliate companies and we earn a commission if you make a purchase. Our line was created with 'YOU' in mind. A Brand that's for anyone who have or is in the process of defining who they are mentally and or physically becoming the best version of their Ideal selves. We provide hand picked Vitamins and Supplements from the Worlds Top Brands. Plus, workout and exercise essentials for the active man or woman. Complete with an electronics department for all your gaming, exercise, leisure and home improvement needs. Follow us and you just might hear something, read something, learn something or see something that changes your life…. for the good. Thank you for your Support!
CREATE YOUR LIFE
Inside the only single malt scotch distillery ever built by the legendary Dewar family.
Courtesy Aberfeldy
Whisky neophytes may not be aware that there isn't in fact a Dewar's distillery. The iconic Scotch brand is a blend of several different whiskies, but the so-called "heart malt" that lends it a good amount of its award-winning character today is called Aberfeldy. First conceived of in 1898 by the sons of the brand's founder John Dewar, the Aberfeldy Distillery near Speyside is the only Scotch whisky distillery ever built by the Dewar family.
Therein lies the tale of why Aberfeldy has come to be known as the "Golden Dram." And it's not just because Aberfeldy's single malts, including 12, 16 and 21 Year Old expressions, as well as a selection of limited editions, are some of the very best on the market.
Courtesy Aberfeldy
The Dewar clan built Aberfeldy 125 years ago when the success of their burgeoning blended whisky business prompted them to begin producing single malt themselves, thereby ensuring a steady supply of quality whisky for their acclaimed brand. And while that's still the case today, Aberfeldy has since become hugely respected in its own right, no mere ingredient for another product but in high demand among single malt enthusiasts.
Courtesy Visit Scotland
The site of the distillery, only five miles from John Dewar's birthplace, was originally a brewery. More importantly, it has a top-notch water source, the Pitilie Burn—known for having gold deposits (gold is still panned there today), with which the whisky is made. This jibes well with Aberfeldy's notes of golden honey; hence, the Golden Dram.
Courtesy Aberfeldy
In 2000, Aberfeldy 12 Year Old was first released, and in 2014, Aberfeldy was relaunched as an upscale single malt to wide acclaim, with its own export business; while its elegant new black and gold bottle design was done as a nod to the famous nickname. As most of it is still kept for blending, the relative rarity of Aberfeldy's excellent malts only adds to their allure.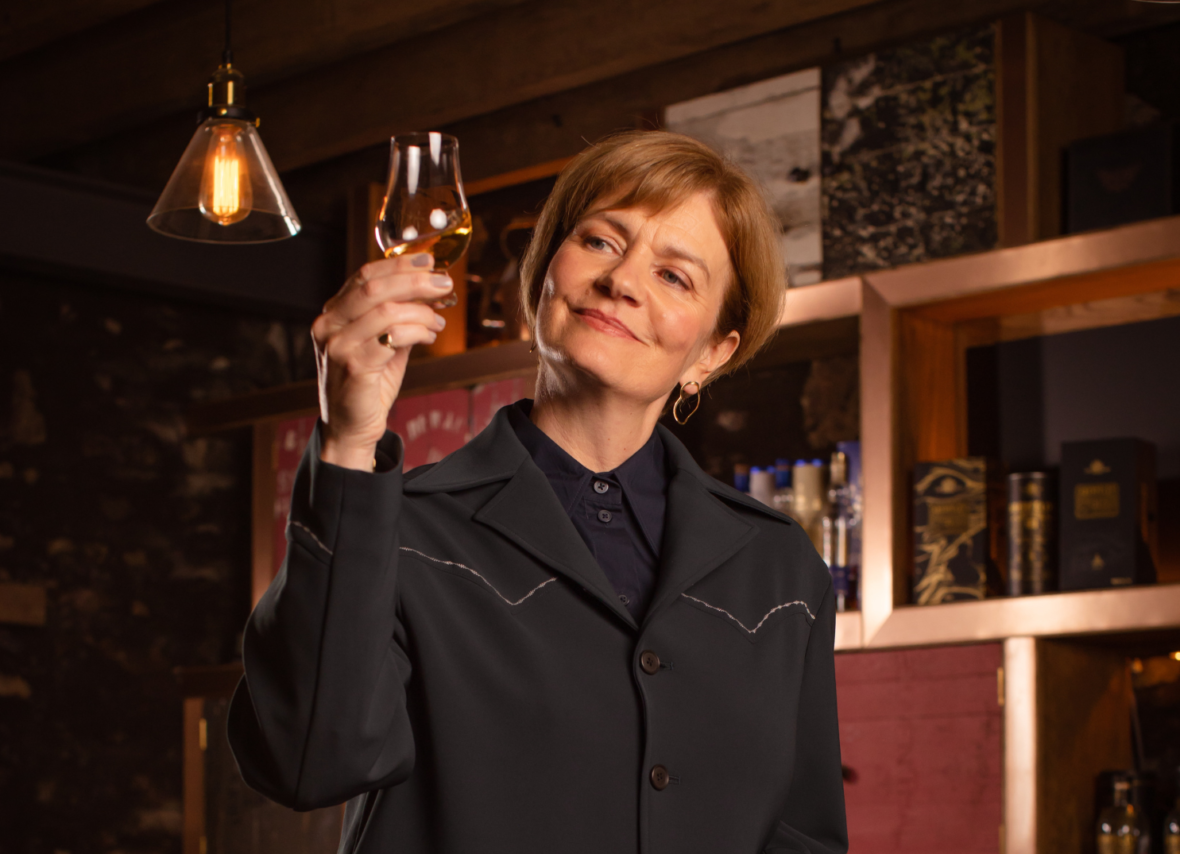 Courtesy Aberfeldy
Stephanie Macleod, Dewar's' Master Blender as well as Malt Master for Aberfeldy, notes that Aberfeldy's "modern" era began when Bacardi acquired the Dewar's portfolio in 1998. Aside from the color scheme, "When we were thinking about the label, we were thinking about the style of Aberfeldy as well," she told us on a recent visit to the distillery. "Because it's very approachable, but also very complex."
Courtesy Aberfeldy
Importantly, "we don't just use one type of whisky cask to mature it," she notes. "We use a variety of different casks that we use. We use bourbon casks, we use re-charred oak casks, and we use sherry casks as well. So it gives us that lovely complexity. But it's also very approachable, and easy to use in a cocktail as well."
Courtesy Aberfeldy
While this last point may have seemed like blasphemy at one time, Macleod points out that tastes have evolved. "This is what we're trying to get through to our whisky drinkers, and those who'd like to be whisky drinkers: Aberfeldy is not something that we need to sign and seal" and never tamper with. "You can add things to it. You can put it in a cocktail. And adjust it. Or have it neat. Enjoy it as it is. However you like."
Courtesy Aberfeldy
She adds, "It's also one of these whiskies, that every time you go back to it, you get something a little different. The main notes are that honey that hits you as soon as you put your nose into the glass. That real intense sweetness, and notes of citrus that also come through. A little bit of spiciness that we get from the sherry influence. And also the bourbon influence as well."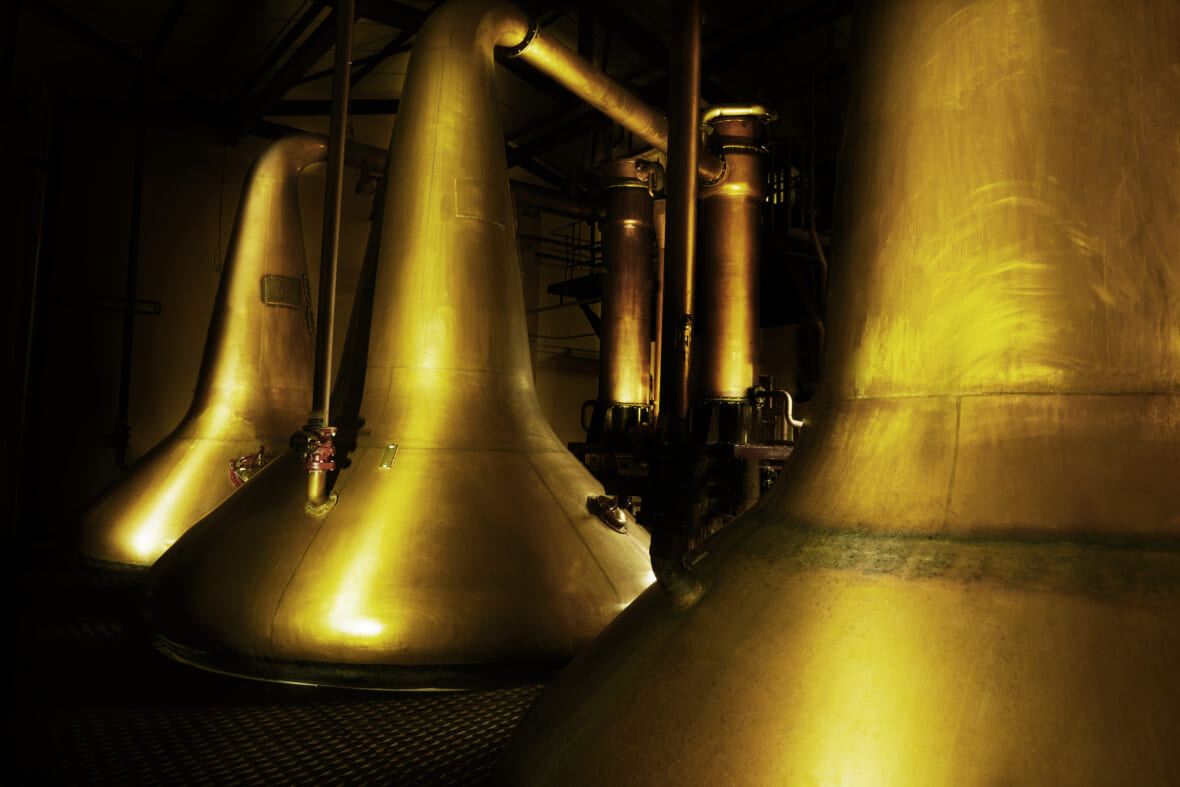 Courtesy Aberfeldy
Macleod points out that it "all goes back to the policy of the new make spirit," that comes off the copper stills as clear liquid well before it sees any wood, and the "grassy, fruit, cereal aroma" that permeates the distillery. "When you have a glass of Aberfeldy, you're almost transported back there." But the combination of "good new make spirit, good casks, and the right amount of time and rest in these casks," is what truly makes Aberfeldy great.
Courtesy Aberfeldy
From there, Macleod and co. have begun to experiment with different Limited Edition finishes and expressions which allow them to experiment a bit more. In 2019 they launched the Aberfeldy Red Wine Cask Collection with a whisky finished in Pomerol wine casks from France. Four subsequent bottlings "further explored the famous reds of the esteemed Bordeaux and Rhone wine appellations."
Courtesy Aberfeldy
That having been a resounding success, they have more recently released a 15 Year Old expression finished in Cabernet Sauvignon wine casks from Napa Valley, and an 18 Year Old finished in Tuscan red wine casks from Bolgheri in Italy. At about $120 a bottle and only available in small quantities, the 18 has become highly sought after.
The only question is whether to drink it or cellar it as its value will inevitably increase with time. The solution of course, is to buy two: "one to store and one to pour." Slàinte.
Tags: Aberfeldy Dewar's Distilleries luxury scotch Scotland Single Malt Single Malt Scotch spirits Stephanie Macleod whiskey whisky

We have collected RSS feeds from some of our favorite websites and given our customers full access! We know that you want to sit back and enjoy the post, article and gossip and you have the choice to either click here Source or continue with the article. Afterwards, feel free to search our site for related information or both!