Defined Creations is the Brand, the store, and the business that is sure to have what you need or looking for or maybe that little something that peeks your interest. Take a look at our menu or enter an item is the search bar. We're connected to a couple different affiliate companies and we earn a commission if you make a purchase. Our line was created with 'YOU' in mind. A Brand that's for anyone who have or is in the process of defining who they are mentally and or physically becoming the best version of their Ideal selves. We provide hand picked Vitamins and Supplements from the Worlds Top Brands. Plus, workout and exercise essentials for the active man or woman. Complete with an electronics department for all your gaming, exercise, leisure and home improvement needs. Follow us and you just might hear something, read something, learn something or see something that changes your life…. for the good. Thank you for your Support!
CREATE YOUR LIFE
The iconic gin cocktail gets some refreshing, bartender-approved upgrades.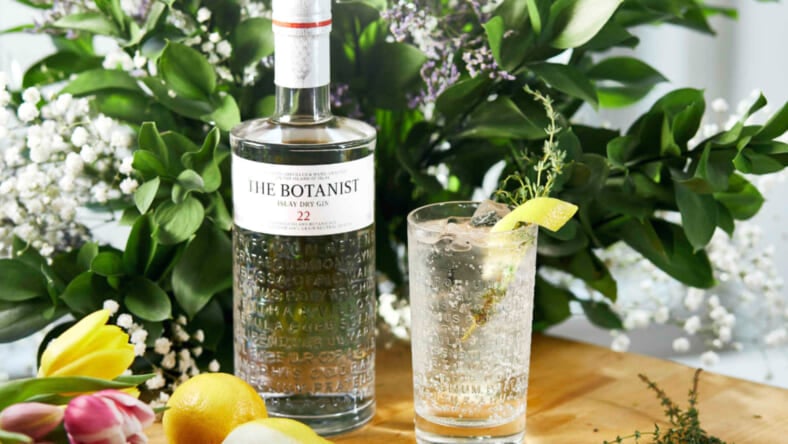 There's hardly an excuse needed to enjoy the crisp, refreshing experience that is a classic Gin & Tonic, an ideal way to cut through the first balmy, breezy days of spring. The G&T even has its very own holiday—National Gin & Tonic Day, on Sunday, April 9.
A new season beckons, and perhaps you're looking to shift your bar cart into a higher gear with new takes on the G&T—no time like the present, right? The best gin serves as an ideal blueprint for cocktails that are flavorful and quite literally spirited, going beyond the typical Gin & Tonic.
Here, five bartender-approved takes on the G&T that offer tasty new twists on the iconic cocktail.
The Botanist Gin-Sonic
The Botanist
Add The Botanist Gin to a highball glass, adding ice and filling halfway with equal parts soda water and tonic. Garnish with a long lemon twist and a fresh sprig of thyme, expressing the lemon oils over the top of the drink.
It's the "bright citrus notes and aromatic herbal undertones" that are enhanced by the thyme and the lemon twist, says Jason Cousins, National Brand & Education Ambassador for Bruichladdich Distillery.
"Splitting the tonic with club soda reduces the sugar and calorie content while providing more space for The Botanist's botanical mix to shine through, making it the perfect choice for a refreshing and refined take on a spring classic."
Glendalough Rose G&T
Glendalough Distillery
Add Rose Gin in an ice-filled wine glass. Top with tonic water and garnish with a slice of lime and a fresh sprig of mint.
With any Gin & Tonic, it's the gin itself that makes the difference, said  Ciarán "Rowdy" Rooney, head distiller for Glendalough Distillery.
"The best gin for a G&T is a small batch distilled gin with a juniper forward flavor that includes other botanicals that are ideally locally sourced," she says. "This will ensure you get a classic G&T that tastes fresh, flavorful and unique."
Rooney notes that Glendalough's Rose Gin, featuring roses from her mom's garden, is a personal favorite and was developed to honor her deep lifelong friendship with her mother—a fitting personal touch for any sipping among family and friends.
Hendrick's Gin Supersonic Gin & Tonic
Hendrick's Gin
2 parts Hendrick's Gin ($48.99)
1 bar spoon simple syrup
1 part fresh espresso (Left out to go gold)
2 parts premium tonic water
Cucumber to garnish
Combine all ingredients in a highball glass filled with cubed ice and lightly stir. Garnish with 3 thinly sliced rounds of cucumber and serve.
"The Supersonic Gin &Tonic is the modern classic strapped to a caffeinated rocket and shot off into a peculiar cocktail universe," saysVance Henderson, U.S. National Ambassador for Hendrick's Gin.
"In this unique riff on a G&T, we've tapped into trending and popular coffee drinks like the espresso martini, the espresso & tonic, and the carajillo, and married them with the floral refreshment of a Hendrick's & Tonic."
Las Californias Baja Gin & Tonic
Las Californias
In a mixing glass, add chilled Las Californias and tonic water, along with a spoon of hop marmalade. Stir and serve in a chilled wine or coup glass, garnishing with mint and lemon.
The magic of this G&T, along with the bite of hop marmalade, is the distinctive approach Las Californias takes with its gin, sourcing ingredients from both California and Mexico.
The distillery calls its Nativo variety an "evergreen gin distilled with endemic botanicals from both sides of the border that predate human interaction with the Las Californias territory."
Tanqueray Pink T&T
Tanqueray
1.5 oz Tanqueray No. TEN ($42.99)
2.5 oz pink grapefruit juice
2.5 oz tonic water
Pink grapefruit wedge to garnish
Add all ingredients to a highball glass filled with ice. Stir briefly, garnish with grapefruit wedge, and serve. Of Tanqueray No. TEN, the well-known gin distillery says it's the end product of "passion and attention to detail in perfect measure," with fresh citrus fruits that deliver an "exquisite citrus burst in every sip."
"The whole citrus employed in Tanqueray Ten's distillation process would be what first comes to mind when jazzing up a Gin & Tonic with pink grapefruit," says Dustin Johnson, Diageo Hospitality Partnership's Educator. "But it's the chamomile notes in Tanqueray Ten that, in concert with a good tonic, pair beautifully with grapefruit and make it a perfect serve for both spring and summer."
Tags: cocktails Food & Drink gin Glendalough Gin Hendrick's Gin Las Californias Gin National Gin & Tonic Day The Botanist

We have collected RSS feeds from some of our favorite websites and given our customers full access! We know that you want to sit back and enjoy the post, article and gossip and you have the choice to either click here Source or continue with the article. Afterwards, feel free to search our site for related information or both!