10 Podcasts That Are Totally Bonkers
Defined Creations is the Brand, the store, and the business that is sure to have what you need or looking for or maybe that little something that peeks your interest. Take a look at our menu or enter an item is the search bar. We're connected to a couple different affiliate companies and we earn a commission if you make a purchase. Our line was created with 'YOU' in mind. A Brand that's for anyone who have or is in the process of defining who they are mentally and or physically becoming the best version of their Ideal selves. We provide hand picked Vitamins and Supplements from the Worlds Top Brands. Plus, workout and exercise essentials for the active man or woman. Complete with an electronics department for all your gaming, exercise, leisure and home improvement needs. Follow us and you just might hear something, read something, learn something or see something that changes your life…. for the good. Thank you for your Support!
CREATE YOUR LIFE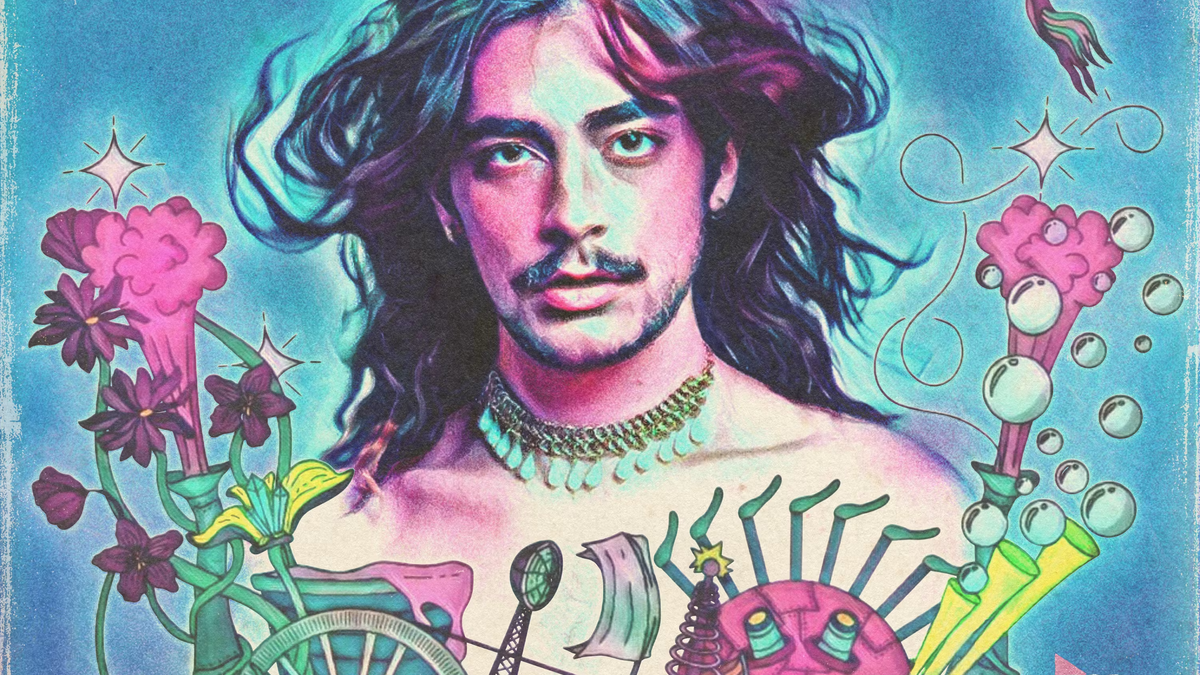 If you want to better yourself, learn how to do something, deep dive into your favorite specific pocket of pop-culture, or learn more about important people, podcasts are there for you. But sometimes they're just there to make you laugh.
These 10 podcasts are off the rails by design—shows in which crank calls, smut, word play, and fever dreams abound. Download one (or a bunch of 'em) when you're in the need of a major laugh/possibly want to question your own sanity.
World Records Podcast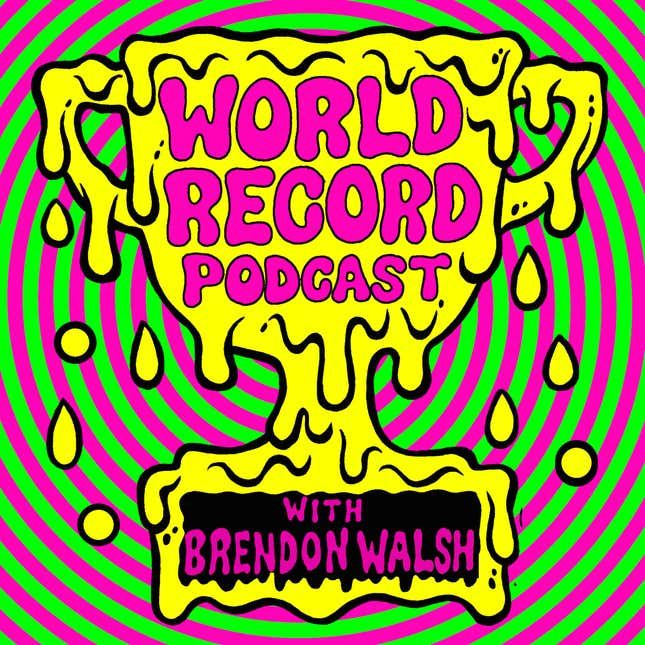 Image: Podcast logo
World Records Podcastis an absolutely unapologetically bonkers, silly round of​​ crank calls, songs, inside jokes, and hilarious guests. Hosts Brendon and Amanda aren't here to update you on world records content, they're here to make you laugh. And on that point, they deliver. World Records Podcast sounds like a cartoon and will make you feel like you're on drugs. Listen to the Ted Danson episode.
Dumb People Town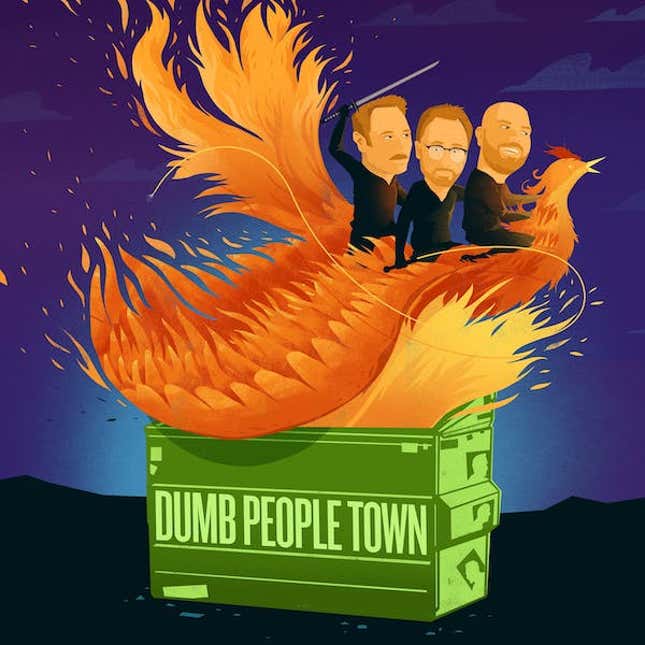 Image: Podcast logo
People have been doing dumb things forever and on Dumb People Town, Randy and Jason Sklar and Daniel Van Kirk are documenting the dumbest of them all. Each week they invite familiar comedians (Mike Birbiglia, Taylor Tomlinson, Bobcat Goldthwait, Dana Gould, Quinta Brunson) to review unbelievable headlines in the news: Someone who has never traveled in a plane flies one, a bride calls off a wedding when her bald groom's wig falls off mid-ceremony, many stories from the "someone-got-something-stuck-in-them file," and more.
The Best Show with Tom Scharpling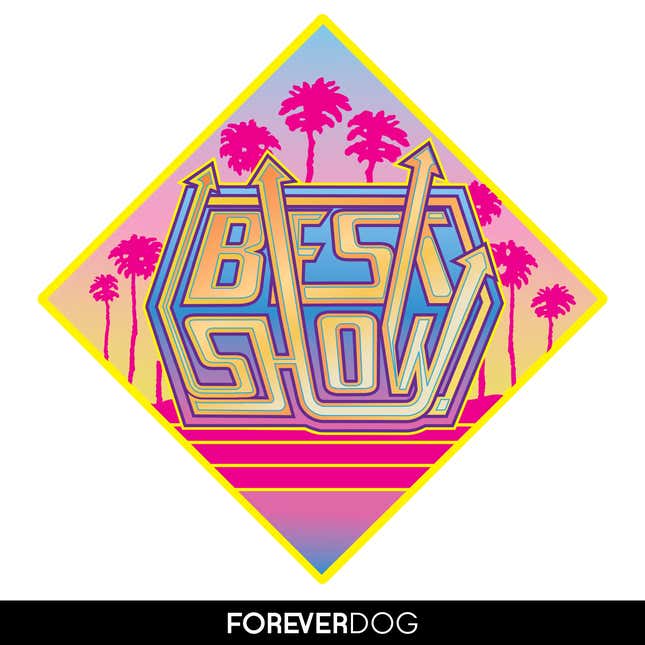 Image: Podcast logo
Podcasts are often thought-out and scripted, butThe Best Showis three hours of live mayhem with comedian Tom Scharpling and his celebrity guests. Episodes flow like a radio show, with live music, callers, hot topics, and plenty of surprises. The Best Show streams live every Tuesday night on Twitch at 6pm PT but you can listen to it in your podcast app. Tom has been doing this for years and has the comedy chops and experience to keep you laughing for hours. You'll feel like you just did a bunch of crunches.
The Beef and Dairy Network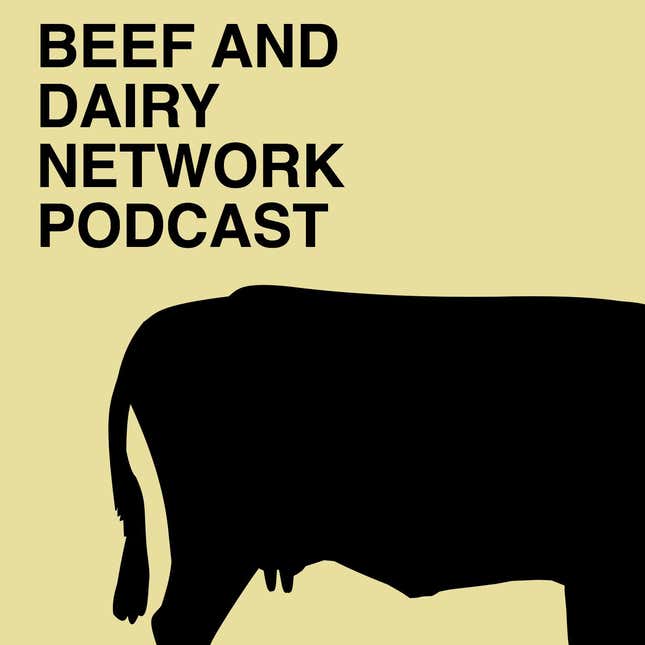 Image: Podcast logo
The Beef and Dairy Network is a fictional, absurdist, one-of-a-kind show that lampoons the world of beef and dairy farming. (If you think that can't be funny, you're wrong.) Listening is akin to reading a magazine full of satire, niche humor, surreal elements, wordplay, puns, long-running gags, and strong comedic writing, The Beef and Dairy Network is full of preposterous situations and characters that poke fun at society with straight faces all around, and the jokes always land.
Trailer Park Diaries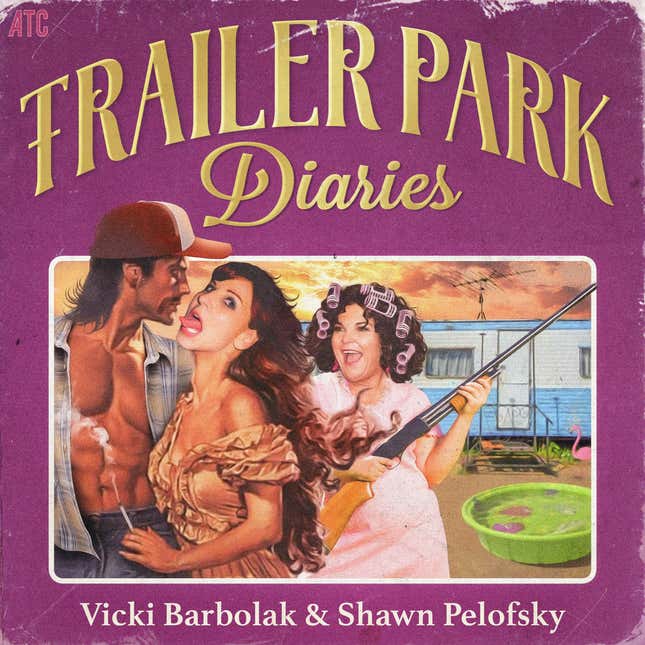 Image: Podcast logo
On Trailer Park Diaries, comedian best friends Vicki Barbolak and Shawn Pelofsky bring listeners into a hilarious world inside a fictional trailer park full of colorful characters and situations by reading a trunk full of diaries that recount every ridiculous mishap that goes down. Gossiping and crazy characters and electric chemistry between the hosts make you feel part of the community (or a trailbor—that's trailer neighbor—if you will) drinking a PBR in a tire swing. Enjoy a new chapter every episode.
Last Podcast on the Left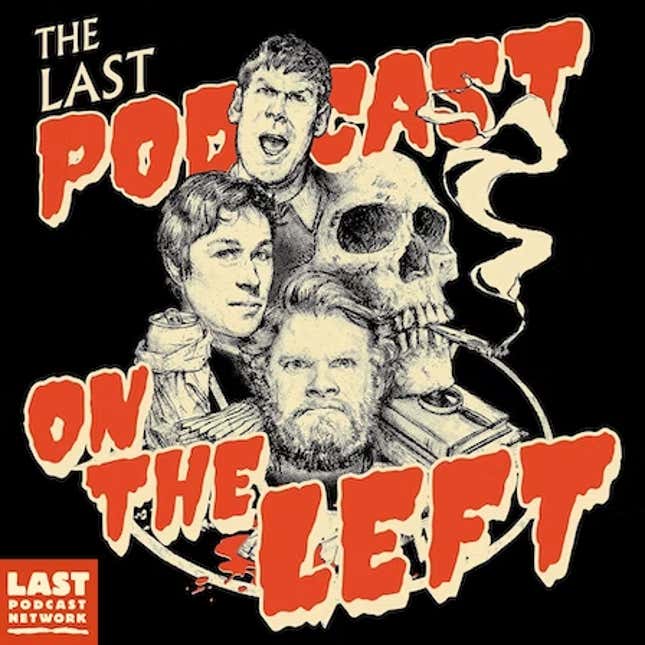 Image: Podcast logo
You could come to Last Podcast on the Left for the dark, twisted true-crime, or you could come for the hysterical storytelling and chemistry from hosts Ben Kissel, Marcus Parks and Henry Zebrowski. Each episode feels like a comedy routine spun around some of the darkest stories—Jeffrey Dahmer, werewolves, Jonestown, iconic hauntings, the history of war crimes, and more. These guys are at an eleven on a scale of one to ten and they never come down.
Ghosthoney's Dream Machine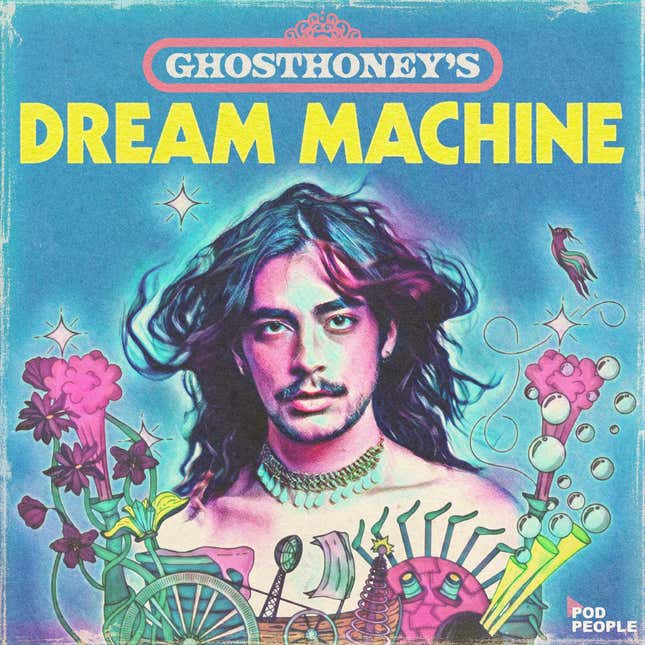 Image: Podcast logo
TikTok's Ghosthoney is sharing the story of his move into his late Great Aunt's eclectic Los Angeles mansion, where strange things lurk around every corner for the delightfully chaotic Ghosthoney's Dream Machine. The docu-style mystery features an eternal goblin named Rose that lives underneath Ghosthoney's bed and feeds on his socks, a sexy next-door neighbor/vampire, and a sassy full moon. It's a podcast, but it's also a fun house. Every so often Ghosthoney interprets listener dreams, which makes this dreamy show all the more dreamlike. This podcast exists on another plane, in a parallel universe. You'll need breadcrumbs to find your way home.
What Fresh Hell Is This?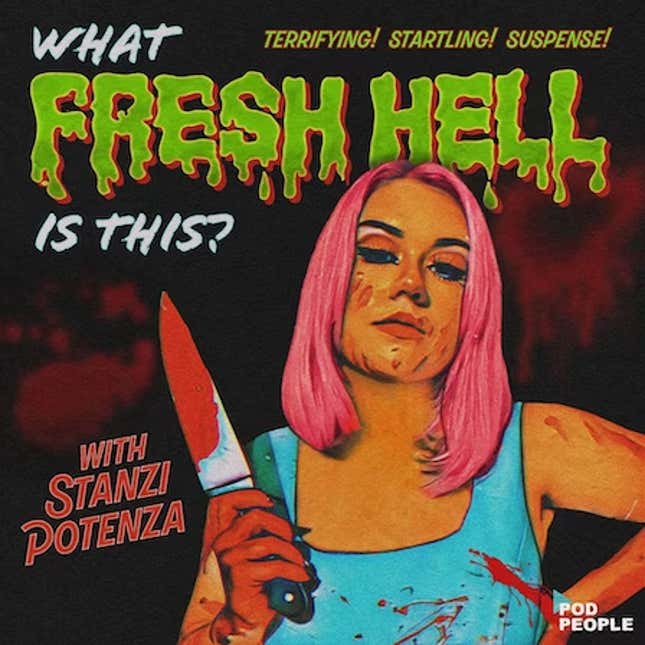 Image: Podcast logo
What Fresh Hell Is This? is unhinged, and you might look unhinged listening to it in public. TikToker and comedian Stanzi Potenza is your host/relatable friend who overshares absolutely everything, recaps her weekend, and reads sketches and fan smut. It takes really good editing to make something that feels so chaotic sound so good. Episode are short enough to keep your attention and give you a zap of energy, like downing an aural espresso shot.
SONG-A-WEEK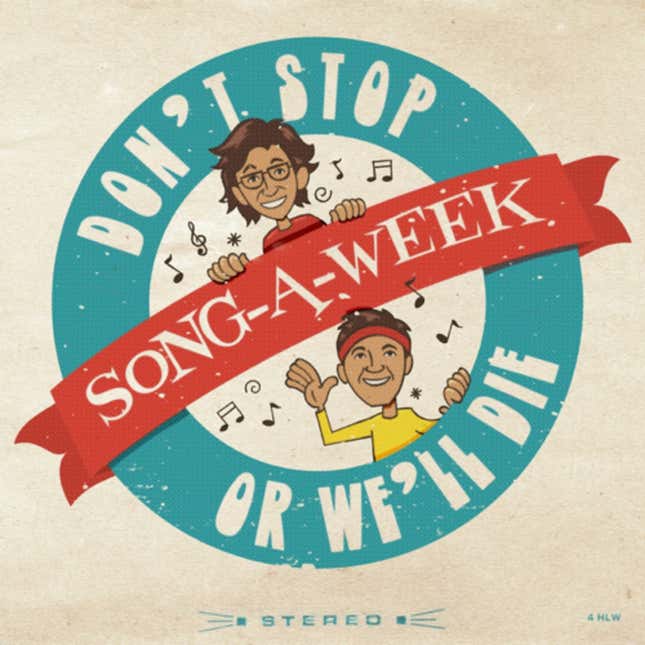 Image: Podcast logo
For two years onSONG-A-WEEK, Paul Rust and Michael Cassady created a brand new song…every week. Each one is funny, joyful, and surprisingly catchy, and Paul and Michael have a nice dynamic. With songs like "Fancy Paw," "You Must Zap," "Two Hundred Tons of Teeth," you're sure to find an absolute favorite, one you'll return to when you need a boost. (Surprising twist: it's produced by Tony Thaxton of the former drummer of the pop-punk band Motion City Soundtrack.) As pop music podcasts go, it's the tops.
Richard's Famous Food Podcast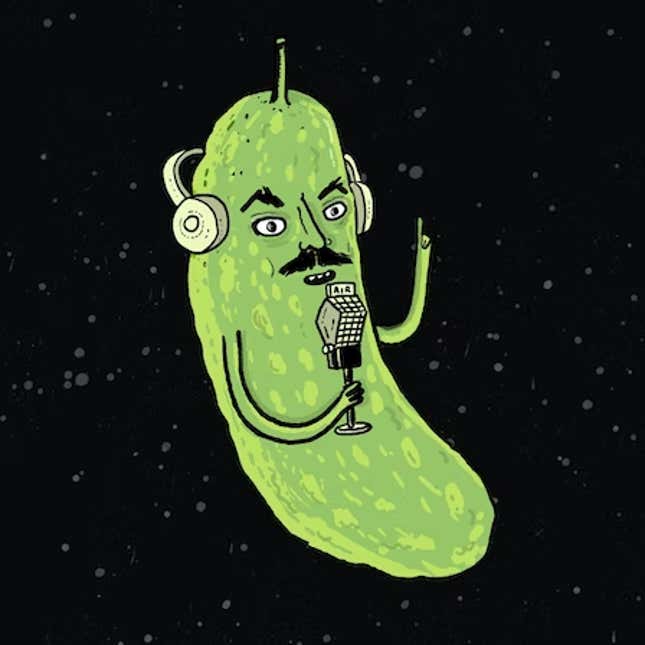 Image: Podcast logo
Richard's Famous Food Podcast is as much of a sound experiment as it is a food podcast. Host Richard Parks III is guided by his wild imagination to produce colorful, madcap pieces that play with sound and structure. One episode takes you on a road trip through L.A. with Wolfgang Puck. Another interviews Avery Truffleman about truffles. Your best first taste might be the one that sets to figuring out how Everything Is Alive's Ian Chillag got an air-filled ketchup packet in a Goldburger order. It sounds like what Pee Wee's Playhouse looks like. You may not learn how to pickle a cucumber, but you'll get a song about and an interview with a very spunky pickle.
We have collected RSS feeds from some of our favorite websites and given our customers full access! We know that you want to sit back and enjoy the post, article and gossip and you have the choice to either click here Source or continue with the article. Afterwards, feel free to search our site for related information or both!