Defined Creations is the Brand, the store, and the business that is sure to have what you need or looking for or maybe that little something that peeks your interest. Take a look at our menu or enter an item is the search bar. We're connected to a couple different affiliate companies and we earn a commission if you make a purchase. Our line was created with 'YOU' in mind. A Brand that's for anyone who have or is in the process of defining who they are mentally and or physically becoming the best version of their Ideal selves. We provide hand picked Vitamins and Supplements from the Worlds Top Brands. Plus, workout and exercise essentials for the active man or woman. Complete with an electronics department for all your gaming, exercise, leisure and home improvement needs. Follow us and you just might hear something, read something, learn something or see something that changes your life…. for the good. Thank you for your Support!
CREATE YOUR LIFE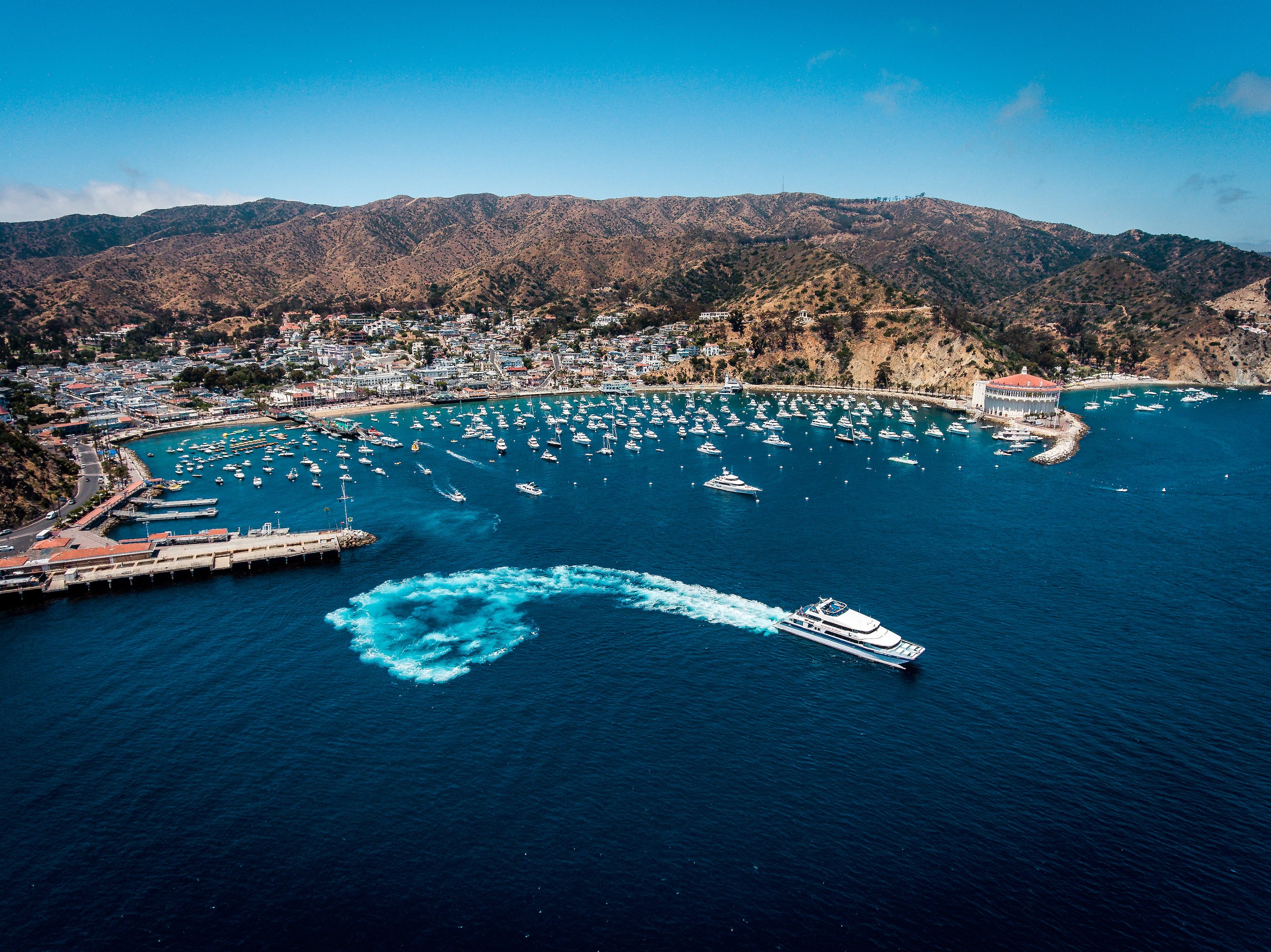 Historic hotels, a picturesque harbor and herds of wild bison are among the attractions at this island off the Southern California coast.
Courtesy Catalina Express
Famous as the birthplace of saltwater sport fishing, and a favorite of seafaring stars like John Wayne, Clark Gable, and Humphrey Bogart, Santa Santa Catalina Island, often referred to as Catalina, is just 22 miles off the coast of Southern California and therefore easily accessible from Los Angeles—yet it feels like another world entirely.
With its historic buildings, picturesque harbor, beach club, and carefully tended wilderness populated by herds of wild bison—they were brought to the island in the 1920s for a film production—Catalina feels like a massive movie set, perhaps somewhere in the Mediterranean—but this is no mere time capsule or Hollywood backdrop.
Courtesy Catalina Island Conservancy
Thanks to year-round sunny weather, stunning landscapes, loads of outdoor activities and a quaint town of Avalon brimming with great bars and restaurants, at 22 miles long, Catalina, the southernmost island of California's Channel Islands, is as photogenic as it gets. Whether for a day trip, weekend, or longer stay, it's well worth the trip from the mainland.
Courtesy Catalina Express
Catalina Island is just about an hour's boat ride away from the Southern California coastline, and that's the best way for visitors to get there. With up to 30 departures daily, Catalina Express is the top ferry company offering quick, enjoyable trips thanks to its fleet of eight fast, modern craft departing from convenient ports in San Pedro, Long Beach and Dana Point. We suggest ponying up for the Commodore Lounge for priority check-in and boarding, upgraded seating, and a complimentary beverage such as its signature Bloody Mary, whose recipe was created by a former captain.
"We want people to sit back, relax and enjoy the ocean views on their journey over to Catalina," Catalina Express President Greg Bombard tells us. "Passengers sometimes spot dolphins and other sea life playing the waves on their trip." And in all seating areas, "for the ease of guests, cabin attendants walk around to offer a light snack or a drink from the galley that includes a full bar."
Courtesy Catalina Express
Once on the island, exploring on foot is the best way to see the main attractions, though there are also numerous bus and safari tours depending on your particular interests. There are 30 different restaurants and bars catering to all tastes, from gourmet dining to fish and chips and everything in between, all of it as fresh as can be with seafood obviously playing a starring role.
Courtesy Catalina Island Company
Accommodations run the gamut from Spanish Colonial Revival-style hotels, historic bungalows, and luxury suites to quaint neighborhood inns. Vacation rentals are an option for larger groups or longer stays, and the Island Spa located in Avalon's historic El Encanto building, "blending 15,000 square feet of indoor and outdoor bliss," is available to all (by appointment only).
Courtesy Zane Grey Pueblo Hotel
The poshest and most historically significant hotel stay is the penthouse of the Zane Grey Pueblo Hotel, formerly the private residence of the famed millionaire author of Western adventure stories and avid sport fisherman, who served as president of Catalina's exclusive Tuna Club, founded in 1898. Notable members included Theodore Roosevelt, Winston Churchill, Cecil B. DeMille, Charlie Chaplin, and Bing Crosby.
Courtesy Zane Grey Pueblo Hotel
The 2,300-sq.-ft., three-bedroom spread has four private balconies with outdoor seating, a fire pit, a full kitchen, fireplace, 12-seat dining table, a large living room / library, direct access to the hotel's rooftop pool, and incredible views of Avalon and the harbor. There are numerous items of Zane Grey memorabilia throughout the suite as well.
Courtesy Descanso Beach Club
Other noteworthy island locales include the Descanso Beach Club, which in warmer months is home to an indoor / outdoor restaurant, beach chairs and cabanas, all with a beautiful view of both the ocean and the nearby Catalina Casino. Walking to the Descanso also takes you past the historic Tuna Club and the exclusive, members-only Catalina Island Yacht Club.
Courtesy Bluewater Grill
Another must-visit is the Bluewater Grill, Avalon's most prominent restaurant, with an entire wall devoted to historic sport fishing photos and an upscale nautical vibe throughout. Inside you'll find everyone from young film industry types over from L.A. for the day to yacht captains, locals, and tourists of all stripes. Every imaginable kind of fish and shellfish is available at both indoor and outdoor tables.
Courtesy The Naughty Fox
The Naughty Fox and NDMK Fish House are two other spots we highly recommend for refined but casual food and drink. At The Naughty Fox, located adjacent to the Island Spa, the Lobster BLT is truly epic, with great cocktails to match. And NDMK, run by local fishermen, has some of the tastiest and freshest seafood you'll have anywhere, ever.
Courtesy Bluewater Grill
Chewing gum tycoon William Wrigley Jr. established Catalina as a high-end tourist destination beginning in the 1920s, and in 1929 he opened the Casino, an Art Deco-meets-Mediterranean masterpiece, the height of which is equivalent to 12 stories. Home to both a grand theater and a 20,000-sq.-ft. ballroom and promenade on the upper floor, it has played host to all of the famous figures who've visited Catalina over the years.
Photo by Jared Paul Stern
We spoke to Jim Lüttjohann, President & CEO of Love Catalina, the island's tourism authority, about all things Catalina:
What makes Catalina Island so unique? What are its main attractions? 
"Catalina is California's only island resort and happens to have a particularly European feel unlike anywhere else in the state.  The Island offers amenities and activities like sports fishing, sailing/yacht charters, both fine and casual dining along with hiking, mountain, and street biking, camping and lots more."
Photo by Jared Paul Stern
How does the heritage of Catalina inform the way things are run today?  
"The Wrigley family still has a large number of businesses they operate via the Catalina Island Company both in Avalon and Two Harbors.  Historically much of the foundational tourism infrastructure that we all continue to use and benefit from like the Catalina Island Casino and several hotels were built with the vision of earlier generations of the Wrigley family.  Today they are investing in restorations, expansions and even completely new offerings like a soon-to-open Bier Garten."
Courtesy Bluewater Grill
What is being done to preserve Catalina's heritage? 
"Many of our most enjoyed and appreciated facilities are in the midst of recently completed restorations.  The Chimes Tower, Via Casino Way Arch and the Island Spa buildings are among the more recent and large restorations undertaken.   The Zane Grey Pueblo Hotel has been restored and expanded in the last few years and new pilings were just placed under the Green Pleasure Pier."
Courtesy Zane Grey Pueblo Hotel
"Next up is the Passenger Ferry terminal facility, slated for a total makeover and improvements to our pedestrian walkways along our waterfront.  Long standing cultural traditions are also being kept alive like the twice yearly art festivals, Cinco de Mayo dances on Wrigley Stage and the annual Catalina New Year's Eve Gala, which will be celebrating the arrival of 2024 in the Casino Ballroom for the 50th year, this year."
Courtesy Catalina Island Company
What is the importance of preserving nature on Catalina? 
"Very important!  For just over 50 years, the Catalina Island Conservancy has been actively managing over 80% of the island in a trust, with the simultaneous goals of educating visitors about the importance of protecting native species, preservation of Native American historical sites and also offering rugged camping and wildlife viewing at an up close and personal level, not found in very many places around the world."
Courtesy Catalina Backcountry
Author's note: Catalina Backcountry is the go-to outfit for trail support, comfortable camping, guided hikes, gear hauling and custom experiences, for those who wish to explore the conservation lands on foot. And Catalina Island Conservancy has eco tours leaving from downtown Avalon that let you experience the island's considerable natural attractions, including hidden beaches and a glimpse of the buffalo, from the comfort of a safari-style SUV.
Photo by Jared Paul Stern
When is the best time to visit Catalina Island?  
"Any time, but honestly, I think the most under appreciated opportunity lies in the fall.  October and even November, often still enjoy full summer temperatures, but with fewer fellow travelers around."
Tags: Avalon California bison Bluewater Grill california Catalina Catalina Backcountry Catalina Express Catalina Island Catalina Island Company Descanso Beach Club fishing islands southern California The Naughty Fox Travel usa Zane Grey Pueblo Hotel

We have collected RSS feeds from some of our favorite websites and given our customers full access! We know that you want to sit back and enjoy the post, article and gossip and you have the choice to either click here Source or continue with the article. Afterwards, feel free to search our site for related information or both!