Defined Creations is the Brand, the store, and the business that is sure to have what you need or looking for or maybe that little something that peeks your interest. Take a look at our menu or enter an item is the search bar. We're connected to a couple different affiliate companies and we earn a commission if you make a purchase. Our line was created with 'YOU' in mind. A Brand that's for anyone who have or is in the process of defining who they are mentally and or physically becoming the best version of their Ideal selves. We provide hand picked Vitamins and Supplements from the Worlds Top Brands. Plus, workout and exercise essentials for the active man or woman. Complete with an electronics department for all your gaming, exercise, leisure and home improvement needs. Follow us and you just might hear something, read something, learn something or see something that changes your life…. for the good. Thank you for your Support!
CREATE YOUR LIFE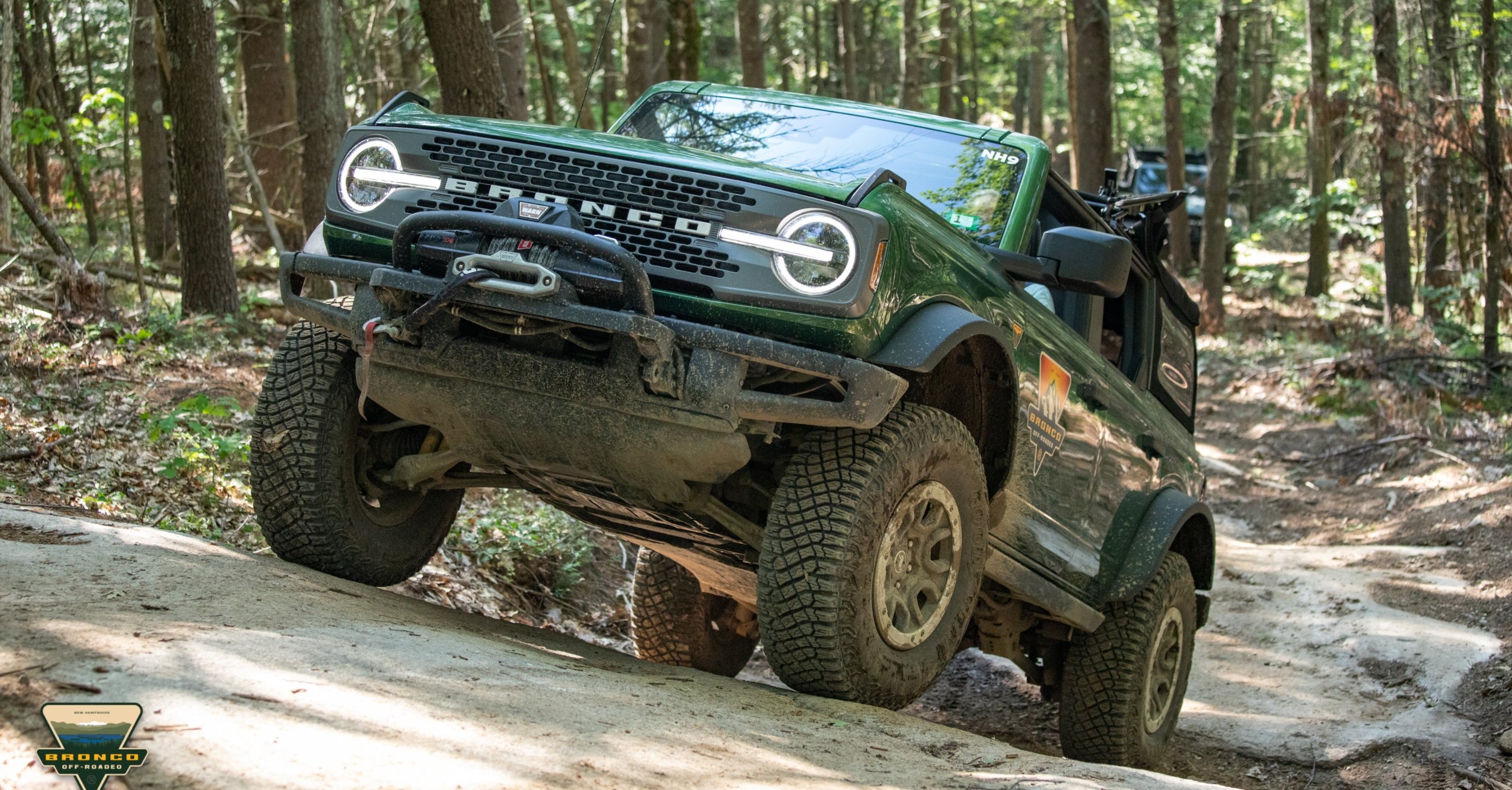 Pushing the brawny Bronco to its limits on a rugged "Off-Roadeo" course in New Hampshire.
(Ford)
I experienced ten hours of adrenaline-soaked joy in the Ford Bronco "Off-Roadeo." I tested the limits of the most offroad-ready Broncos on the trails of an off-season ski resort in New Hampshire. Not to mention the limits of my relationship with my father-in-law who joined me as my co-driver. It was the most intense no-experience-necessary driving trip I've ever been on, and all new Bronco buyers get access to one of four "Off-Roadeo" courses around the country. Having done it, I think it's a perk worth buying a Bronco for.
Live Free Or Die
The 5 a.m. alarm ripped me from a bourbon slumber and a hot shower wasn't near enough to take the edge off the early morning. We had a two-hour drive ahead of us from Rockport, Massachusetts to Gilford, New Hampshire. Culturally, it felt much longer; I stopped at a drugstore five miles into the Granite State and had to wait in line behind a local woman buying a rack of beer and two packs of smokes. It wasn't even 10am yet. I had always thought when I saw the slogan "Live Free or Die" on New Hampshire license plates that it was said with a wink, but then you get there and realize it's said in genuine defiance.
(Ford)
The Bronco Roadeo takes over the Gunstock Mountain ski resort in the summer, with sibling 'Roadeos' hosted in Moab, Texas, and Nevada. The mountainous area we were headed to overlooks Lake Winnipesaukee, and for sheer beauty it rivals any backdrop in the country. We pulled into a field next to a chair lift, alongside pristine new Broncos driven in by fellow Roadeo participants. The long drive had made us a few minutes late for sign-in, so we hustled out to a grass-covered ski slope for the hands-on orientation already in progress. They don't waste time getting right into it––no hourlong coffee banter bullshitting about who else is here from Cleveland.
We joined a dozen Bronco owners and their plus ones––some who'd already taken delivery and others who'd been waiting many months and still didn't have them. A trip to the Off-Roadeo was a chance for new owners to do things to a Bronco that they'd be too scared to do to their own. (The ones we parked in the visitor field, despite the traction plates and Hi-Lift jacks on the roof racks, were accustomed to covered parking.)
For those still waiting for their Broncos, it was a great consolation prize to tide them over. It was clear that everyone in attendance had spent weeks of their lives staring at the specs pages of the Bronco website, because they all aced the questions lobbed by the instructors.
Zen & The Art Of Motorcycle Coolant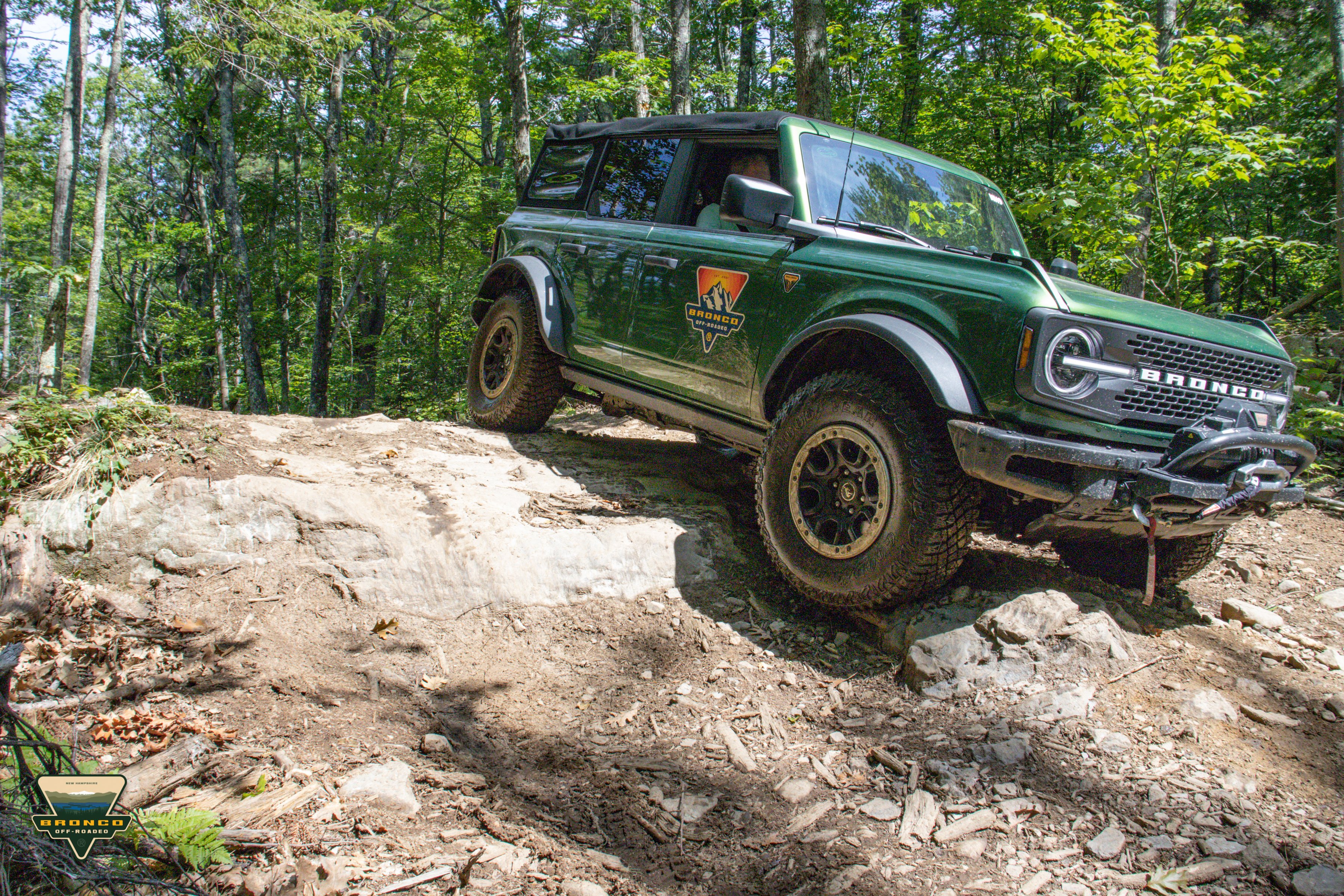 (Ford)
"The only question we can't answer is when you're gonna get your Bronco," said Rob, one of two Bronco Off-Roadeo guides for our group. He had a goatee, a serious face, a shaved head, and commutes to work on his BMW 1200 GS. He has a master's degree in Motorcycle coolant. (Yes, specifically the coolant.) He was a man of details, and our window into the off-road community. Despite his hardcore habits and that fact that he lived around here for years, he joked about still not being considered a local in New Hampshire.
Rob instructed us to point right or left instead of saying it when you're directing your co-driver through a technical section of trail. This is because right and left are different for the spotter standing outside the Bronco on a gnarly boulder and the driver looking out from inside. They taught us to aim the sideview mirrors low, at the back tires instead of the sides like you would normally, to see what you're going through at the trail level.
They also reminded us that the rear spare wheel is the most dangerous (and expensive) place to hit a Bronco because any serious impact to the spare means your back door is destroyed and your frame is bent. We were also warned to not yank the electronic parking brake like a manual one, or else we'd rip the lever out of the dash––more on that later.
The first activity of the day was an obstacle course created to demonstrate what Broncos are capable of in different terrain. Sharp turns between trees, deep mud, massive boulders, and fallen tree trunks were arranged to teach us how and when to use the various features on the Broncs' dashboard buttons––like detachable stabilizers and front and rear differential locks.
A few minutes later, Broncos were up on three wheels going turn-by-turn through the hairy course while the instructors walked us through when to detach the stabilizers, when to use rear versus front differential locks based on whether you want the car to pull you over a boulder or push you through a slow, slippery turn. The course was so extreme that I assumed we'd be spending the entire day there. And I wouldn't even have been mad about it. But I could not have been more wrong. The difference between that course and the actual day ahead of us was like playing Call of Duty and then being told I was headed to an actual war.
(Ford)
Towering over us was Gunstock Mountain, a ski resort with forested snowshoe and cross-country ski trails, and enough granite boulders to explain the state's nickname. There would be no bunny slopes for us at Gunstock Mountain. If you'd told me at the orientation what we'd be putting these Broncos through that day I would have laughed. Then I would have gone back and asked for extra insurance.
Over the next eight hours, I would do the most technical off-road driving of my life; scaling sheer granite rock faces, going on three wheels, making sharp turns between trees with inches to spare on cross-country ski trails––every minute doing something I wouldn't have thought any production vehicle could handle, let alone any amateur offroad enthusiast behind the wheel.
When I reviewed the Bronco right after it was re-released, I took an Outer Banks model to the Smoky Mountains. I drove it off-road for a hot minute, but honestly it was nothing a Camry couldn't get through. My thinking was, it was the hottest new car in the country, and I was lucky to snag a press loan, so I didn't want to take any chances. All those hesitations went out the window at Gunstock Mountain. We were here to punish suspension and test the limits of suspension, skid plates and axels. When checking in, this is the one time you should get the extra insurance. With what they let you put these things through, there's enough stress without the financial variety.
(Ford)
After orientation, every team of two got to pick a Bronco out of a row of freshly cleaned two and four-door models of different editions. Fearing a Lord of The Flies selection process that might pit me against a dentist from Tampa, I threw my bag straight into the seat of a green Badlands Edition four-door. As I pulled away in single file, with Rob giving commands over a walkie-talkie, I looked down and noticed that a former driver from the manual parking brake generation had ripped the lever clean out of the dash.
The day progressed on the following routine: We'd drive on rugged mountain trails to a serious obstacle––a boulder field, a rock face, a crazy incline––and stop. Then we'd get out and Rob would give us a choose-your-own-adventure pep talk, pointing out places on rocks where skid plates scraped granite, treads disappeared in water––anything from prior drivers that could be instructive. But he did it all like the dad who isn't afraid to let his kid learn a lesson the hard way.
We tried to read these sections of trail like paddlers read a rough stretch of rapids. Once you'd chosen a path, your spotter would get outside and help guide you through it. If you got stuck, Rob would pantomime pushing buttons and say with a smirk, "Push your butt-tons." You never wanted it to get to this point, because the goal was to pick the right feature for the right terrain before you had to, like front diffs when you need help pulling yourself over a loose gravel incline, or rear diffs when you need to push yourself through a muddy section.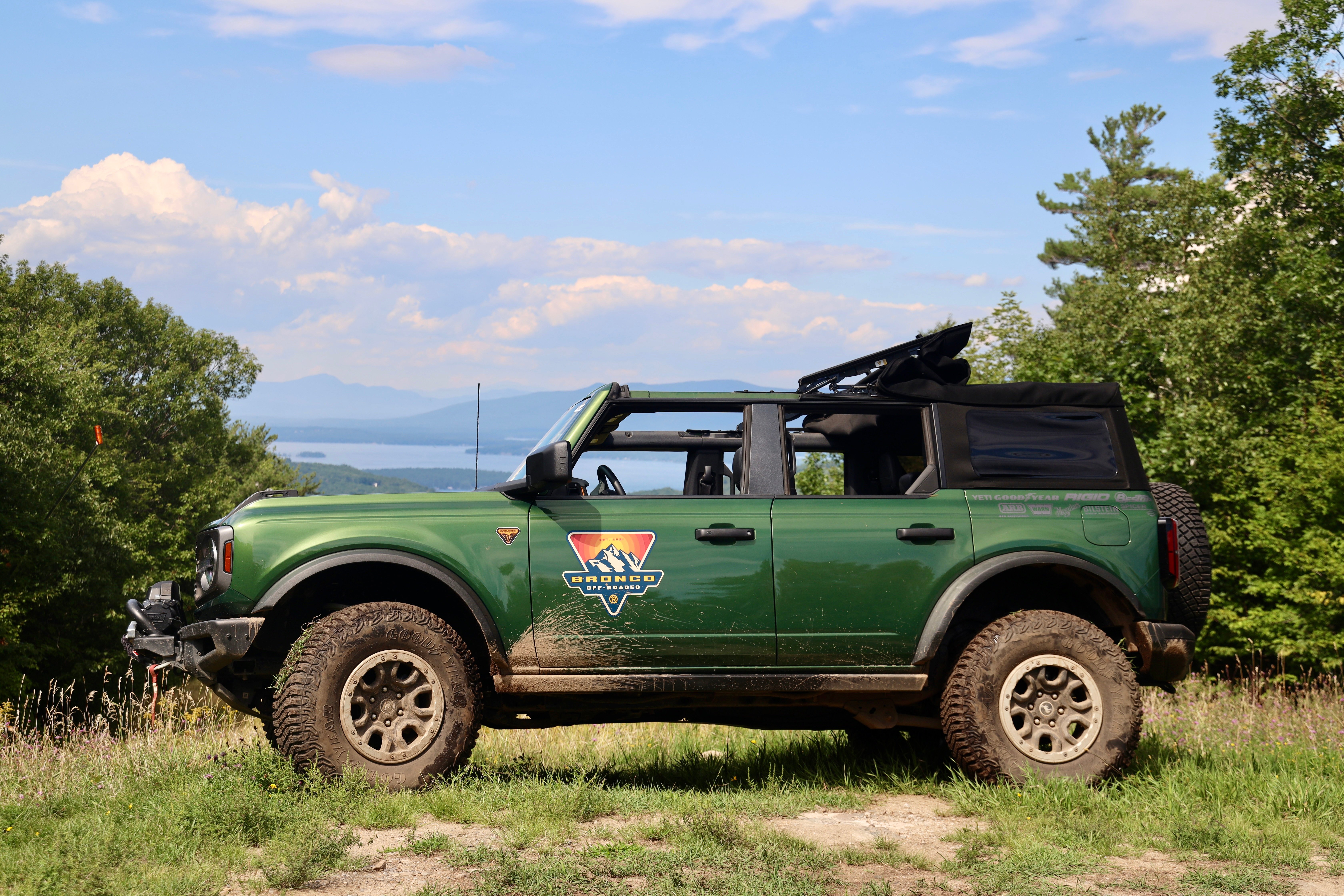 (Ford)
Me and my father-in-law and would take turns on the big stuff; one guiding the other over a field of granite boulders or in a sharp turn between trees while the other drove. Whoever was in the passenger seat was always antsy to get back behind the wheel. For lunch, we took the chair lift to the summit for a 360-view of the lake and the mountains surrounding us. Then we rode it down and were back to the trails with our Broncos.
There was no clock-watching on Rob's part; he was down for every detour we wanted to take, and even indulged us in a few extra trails after the day was technically over. As the sun went down over Gunstock Mountain, we drove back past the chair lifts and parked our Broncos in a line, with their flanks muddied from the day's adventures. We came, we drove, we lived free.    
Bronco Brothers
You've never bonded with your wife's father like you will when you're trusting each other as spotter and driver with a Bronco on the line. Ten years ago, when it came time for me to ask for his blessing to marry his daughter, I was so intimidated by him that I followed him around a reception for an hour trying to build up the courage.
When I finally got the balls to do it, he went into the men's room. Running on adrenaline at that point, I just followed him in. By the time I got the words "for your daughter's hand in marriage" out of my mouth, he was standing at the urinal.
(Ford)
"Sure," he said, "But why don't we finish this conversation outside."
It was a far cry from the poignant moment I'd envisioned. But riding together in the Bronco at the end of that day, I realized that I'd finally killed the ghost of the nervous son-in-law I once was. That over the years, we had finally become peers––or not even that––no. Friends.
Tags: ford Ford Bronco Ford Bronco Off-Roadeo off-road Rides SUVs
We have collected RSS feeds from some of our favorite websites and given our customers full access! We know that you want to sit back and enjoy the post, article and gossip and you have the choice to either click here Source or continue with the article. Afterwards, feel free to search our site for related information or both!