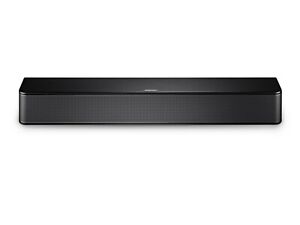 Buy Now
ebay.com
Features
Shape: Rectangular
Connectivity: Bluetooth, Wired
Model: Solo Soundbar II
Type: Soundbar
Audio Inputs: 3.5 mm, Digital Coaxial RCA, Digital Optical TOSLINK
Features: Bluetooth, Remote Control
System Configuration: 2.0 Channel
UPC: 017817827331
User reviews
I am very please with the purchase of the Bose sound bar. Glad I jumped off the fence about it. The set up was super easy with a couple of connection options depending on the type/age of the TV. I love most that the sound is not the OLD movie theater BOOM, it's more subtle yet very noticeable. The surround sound quality is on just another level, sophisticated. Everything I'd expect from the Bose brand.
Not what I expected from a bose product. Not enough bass. Only could use earphone jack in order to get sound from other devices added to tv. Optical plug in option seems to produce better sound, but it only works for tv only. Firestick, external DVD, or any other device added will not work. Waste of money.
I got an awesome deal on this product so that will influence my opinion compared with somebody who really forks out some cash. I like the design. Its fairly small. I have a 43 inch television and this tucks into the TV quite nicely. The metal type build is quite nice. Its sleek, small and has a nice look to it. Besides its from Bose. What else to say. Now to the sound quality. If your looking for an awesome soundbar experience you won't find it in this product. Bose is well aware of the market. You get what you pay for. If you want added base, strong watts and all of that you will have to go up the price points like everybody else. If you want a soundbar with good sound and much better than TV sound this might be the soundbar for you. This soundbar has really nice voice emphasis. There is a button on the remote that really enhances the voice quality. That is probably the best sound feature that I have noticed. If you are looking for extra base I think you will be disappointed. It does emphasize base when you want to much better than your television and sounds quite good. It doesn't come close to the upper tier soundbars that have the same feature. To conclude. This is a well made Bose soundbar that I would purchase again. To me the price was the determining factor. Its well made, sounds much better than the TV sound and looks quite nice. I would recommend if price is important.
I bought this sound bar to supplement the sound of my smart TV in the lounge of a second residence. It's definitely worth the money and has great sound and bass for watching sports, movies, live shows etc. Love the bass adjustment function on the remote (which allows you to increase the bass) and also the voice setting, which allows for clearer speech when watching sports or talk shows. It also has bluetooth which is great should you wish to also use it for music through your smart phone. I am a bose fan and have many of their products. I like to buy a product specifically intended for its use (e.g. Bose Soundlink Mini speaker to take outdoors, Bose NC700 headphones for noise cancelling music. However I have noticed some reviews saying that they are not overly happy with the sound on this Bose soundbar, however if you are trying to use it as a karaoke speaker station or sound system for your outdoor pool party, it's not that answer. BUT, if you want an amazing sound bar to boost the sound quality of your TV experience and listen to music in your lounge with punchy bass, and not pay and arm and a leg, then this is an amazing product and I would highly recommend!
Great product. Surprisingly great sound based on the reviews. Movies sound great but remember this is a soundbar and not a full home theatre system. As such, it exceeded my expectations for movies.